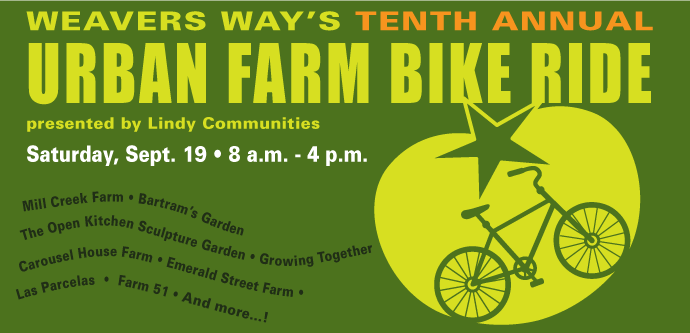 Join cyclists of all levels on an urban farmland adventure! Check out the Philadelphia farming scene from the seat of your bicycle and see what "local" is in its purest form - right in our own backyards!
All proceeds benefit Weavers Way Community Programs (WWCP), the non-profit arm of the co-op.  Dedicated to educating Philly's youth about farming, healthy eating and community values, WWCP's mission is to empower children, youth, and families with the values and knowledge to be healthy, strong, and informed through experiential activities centered on urban agriculture, nutrition, and the cooperative economy.
The Urban Farm Bike Ride is a rain or shine event.  All registration fees are non-refundable.
When: Saturday, September 19, from 8 a.m. to 4 p.m.
Where: The ride starts and ends at Philadelphia Brewing Company (2439 Amber St.) in Kensington.  We will be featuring two rides through West Philly and Kensington and Fishtown~ itineraries to be announced!

What to expect: Great rides through Philadelphia's unique and vibrant neighborhoods; inspiring talks with Philadelphia's pioneering urban farmers; great beer and pizza at the end of the ride; snacks and water along the route; and your own commemorative T-shirt.

The routes: This year we continue the tradition of two rides, a long ride including West Philadelphia farms (approximately 18 miles) and a shorter option, which includes farms of Kensington and Fishtown (approximately 13 miles). 

Participating Farms:

Longer Ride
Shorter Ride

Who will it benefit… besides you? All proceeds benefit the farm education programs at Weavers Way Community Programs. WWCP operates programs through the Weavers Way CSA Farm at Saul High School, the WWCP Children's Garden at the Weavers Way Farm at Awbury, Hope Farm at Martin Luther King High School, and the Hope Garden located at Stenton Family Manor, an emergency housing facility for families experiencing homelessness.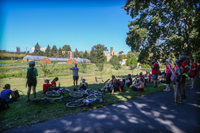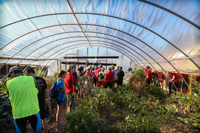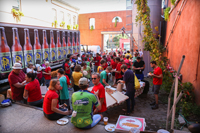 What you'll need to bring on the day of the ride:
Bike

Helmet

Water bottle

Bagged lunch (only if you will need something more substantial before pizza is served at 2pm)
 What we'll provide:
Commemorative 2015 Urban Farm Bike Ride T-shirt

Snacks

Cooler of water for refilling your bottle

Beer & Pizza at the end of the ride
Tickets 8/17 - 9/17/15  $ 45.00
Day of Ride $ 50.00

For questions or to volunteer: wwcp@weaversway.coop
To sponsor the ride: jill@weaversway.coop


Video produced by: Jonathan Brown, Steady State Productions
Article Photographs by: Joe Dosch 
Link to a fantastic Newsworks article and slideshow highlighting last year's ride!
Link to philly.com article on this year's ride!             
 Thank you to our sponsors:     
Lindy Communities
Weavers Way Co-op
Equal Exchange
Philadelphia Brewing Company
Digital Innovation
Clif Bar
Awesome Dudes Printing