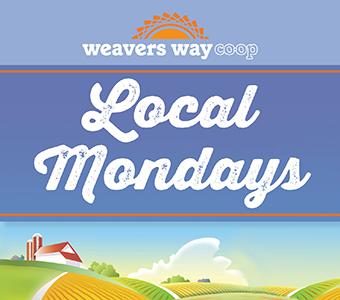 Every Monday, 4-7 p.m., check out our weekly Local Monday afternoon showcases of the locally made bounty of our area. Taste samples, meet vendors and save on great products that are made within 150 miles of Philadelphia. (To read more about our local products, visit our Local Products page.)

October 27 at 
Chestnut Hill
Weckerly's Ice Cream

 in West Philadelphia crafts ice creams and sorbets from locally sourced, farm-fresh ingredients. In the mood for a taste of autumn? The Pumpkin ice cream and Apple Cider sorbet will provide your fall fix!
November 3 at 
Chestnut Hill
Roundtop Farm from Honeybrook, PA, will be sampling sheep's milk cheeses. **Special time: 11 a.m.-2 p.m.

Chaikhana Chai will be warming up you fall day with hot spiced Chai from West Chester, PA.
November 10 at Chestnut Hill
Soom Foods from Philadelphia finds the highest quality white sesame seeds from Ethiopia to make a smooth tahini without any bitterness. Try the chocolate sesame butter for a sweet treat on your toast.
November 17 at  Mt. Airy
Soom Foods brings their original and chocolate tahinis to our Mt. Airy store.
November 24 at Chestnut Hill
Calkins Creamery in the Poconos makes an array of artisan cheeses for every occasion. Come sample a few in our Chestnut Hill store, starting at 3 p.m.
November 24 at Mt. Airy
One Village Coffee will be giving everyone a little afternoon pick-me-up with their locally (Souderton, PA) roasted coffee.