Friday, June 15, 2018 -

10:00am

to

11:00am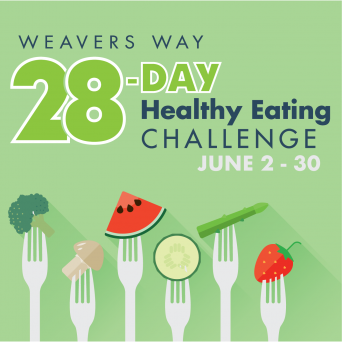 The emerging science is now revealing that the our body's relationship with its microorganisms can profoundly influence our health. As Michael Pollan wrote in a fascinating article,"Some of My best Friends are Germs:"
"To the extent that we are bearers of genetic information, more than 99 percent of it is microbial. And it appears increasingly likely that this 'second genome,' as it is sometimes called, exerts an influence on our health as great and possibly even greater than the genes we inherit from our parents."
In this workshop, we'll discuss the microbiome as well as a few tips for optimizing your germs!
This program is offered in support of the Weavers Way 28-Day Healthy Eating Challenge, running from June 2-30, 2018. It will be geared toward challenge participants, but free and open to anyone interested in attending!
>> FREE. REGISTER HERE.
This workshop and this season's challenge will be guided by Weavers Way member, Seth Pollins. Seth, a professional cook and writer, currently teaches creative writing at VIllanova University. For 10 years, Seth worked as a lecturer and recipe developer at Whole Foods, where he inspired individuals of all ages to discover the joy of cooking and eating.
Organizer Name:
The Weavers Way Membership Dept.