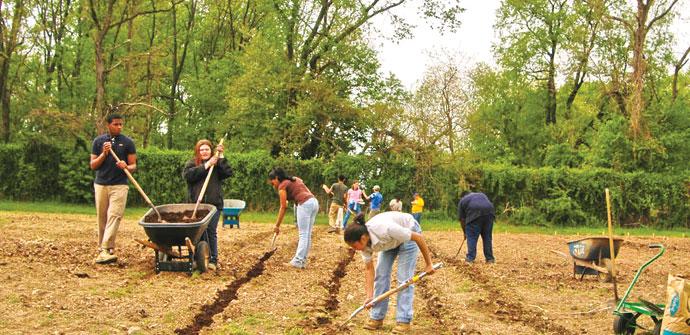 Weavers Way Co-op, Weavers Way Community Programs and W.B. Saul Agricultural High School collaborate in a Community Supported Agriculture (CSA) farm. The farm is on the grounds of Saul High School in Roxborough, on land owned by Fairmount Park. Weavers Way Co-op Farm is responsible for the production aspects of the CSA, and Weavers Way Community Programs is responsible for the farm education programs.
"Henry Got Crops" was started in 2009 and is run in collaboration with teachers at Saul to serve as an educational opportunity for students and bring food to the community. The farm is located right on campus, and students learn about and partake in small-scale, organic vegetable growing. This is one of the first high school-based CSAs in the country. There are many opportunities for student involvement, ranging from hands-on work in the fields to helping with community outreach and newsletter-writing to doing applied research, budgeting and planning.
This CSA complements the existing agricultural curriculum at Saul, by providing access to a real vegetable-production operation. Weavers Way has a long history of working with Saul teachers and students. Classes have taken field trips to work on Weavers Way's original farm, the Mort Brooks Memorial Farm at Awbury Arboretum in Germantown, and Saul students also worked as interns there. Farmers from the Mort Brooks Farm refurbished a hoop house at Saul and worked with the Agroecology class to grow vegetables that were sold at the Headhouse Square farmers market in Center City Philadelphia. Food from Saul has been sold at the Weavers Way co-op stores for years, going back to Doc Dannenberg bringing eggs and baby spinach to Carpenter Lane.
More than 100 families now participate in the Henry Got Crops CSA, and HGC also runs a twice-a-week farm market in season. Henry Got Crops workshops are open to the public!