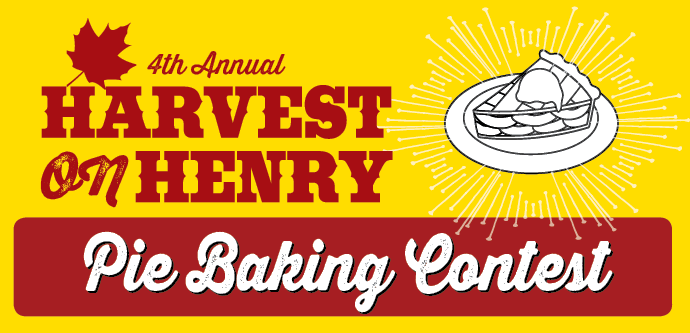 The Harvest on Henry 2014 pie contest is open to all. Winners will be announced Saturday, Oct. 18, during the Harvest on Henry Festival at the Henry Got Crops farm (across from Saul High School).
The Basics
There are two categories – "Fruit" pies (apple, cherry, etc) and "Other" (pecan, custard, etc). Harvest on Henry runs from 1 to 5 p.m.; pies must be brought in by 1 p.m. Pies will also be accepted the day before, Friday, Oct. 17,  during regular Henry Got Crops CSA pickup, 2-6 p.m.
Who Can Participate?
The contest is open to everyone! This includes Saul students (who can compete for free), CSA members, Weavers Way Co-op members and others in the community.

Judging
This year there will be two sets of three judges. One set of judges will evaluate the Fruit pies, and one set of judges will evaluate the "Other" category.
Awards will be presented at 3 p.m. Prizes include gift certificates to local businesses and prize baskets. In addition,  the best student pie will win a grand prize.

What Do I Do?
Non-student participants must bring two of each pie they enter. New this year - students only need to bring one pre-sliced pie.
For everyone else, one pie should be sliced into 8 equal pieces for judging and one pie brought whole to donate to the pie sale. (If you would like to pre-package your pie slices and pie, containers can be picked up at the farm prior to the festival. This would be greatly appreciated!!)
No frozen or warm pies please. Pies must be appropriately cooled for ease of cutting and distribution.
Standard sized, round pies only.
Please make sure pie pans are recyclable as we will not be able to return them.
Pies must be brought to the festival by 1 p.m. Saturday, Oct. 18. Pies will also be accepted the day before, Friday, Oct. 17, during CSA pickup, 2-6 p.m. Pies that arrive after 1:30 p.m. will not be judged.
Entrance Fees
For one pie, the entrance fee is $15. To enter both categories, or two varieties in one category, the fee is $20. Saul students may enter for FREE!
Payment is required on or before the day of the event. Credit-card payments are accepted at www.weaversway.coop/pie. Cash or checks (made out to Weavers Way Farms) can be dropped off at the farm on Tuesdays and Fridays between 2 and 6 p.m., or you can drop off your payment when you drop off your pies on Oct. 18.
The proceeds from this fundraiser will be used to support the farm.