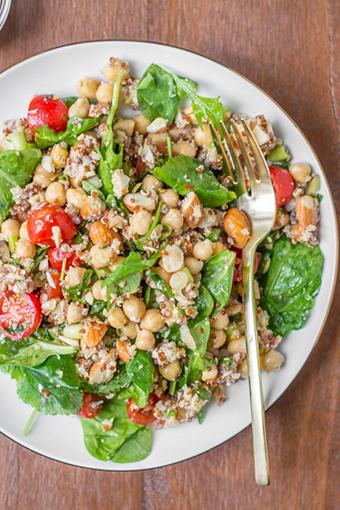 (Serves 4)
15 oz. cooked chickpeas (one can), drained and rinsed
1/2 cup almonds, chopped
1 cup cooked quinoa, cooled
1/4 cup scallions, trimmed and thinly sliced
1 cup cherry tomatoes, halved or quartered 
4 cups (about 1/2 bunch) dandelion greens, leaves and stalks (or use whatever greens you have — I have used a mix of baby spinach, baby kale and collards) 
For the marinade:
Grated zest of 1 lemon + 2 tbls. juice
3 tbls. extra-virgin olive oil
2 tbls. fresh flat leaf parsley leaves
1/4 tsp. salt
1/4 tsp. red pepper flakes
Whisk together lemon zest and juice, oil and parsley in a bowl. Add chickpeas and season with salt and pepper flakes. Let stand 30 minutes.
Combine salad ingredients in a large bowl. Add marinated chickpeas; toss to combine. Season with salt and serve.
Make-ahead tip: Marinate chickpeas and combine salad ingredients the night before serving. Store separately in refrigerator, then combine right before serving.