by
Norman Weiss, Weavers Way Purchasing Manager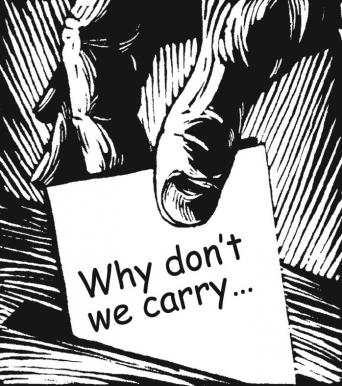 Greetings and thanks for writing. As usual, suggestions and responses may have been edited for brevity, clarity and/or comedy. In addition, no idea, concept, issue, remark, phrase, description of event, word or word string should be taken seriously. This also applies to the previous sentence.
Interesting timing around our new Ambler location with major corporate players like Whole Foods and Amazon — Amazon acquires Whole Foods in August 2017, Weavers Way opens the new store in mid-October, Whole Foods completes relocation of its former North Wales store to Spring House, 2.5 miles from Weavers Way Ambler, in March 2018. The market study we did to measure the potential sales available to us in the Ambler store's trade area was updated in May 2016 to account for the Whole Foods moving closer, but it did not predict the Amazon takeover or the consequences thereof. So we went from jumping into a David-and-Goliath scenario to being in a David-and-Evil Empire scenario. 
But is this really the right analogy? Is Amazon bad and if so, why? We've seen the reports about the poor working conditions in Amazon warehouses, and the company's contribution to the decline of brick-and-mortar stores and small business in general. For people who value citizen services, apparently Amazon has helped the U.S. Postal Service survive the demise of paper mail. For people who value sustainability, there's Amazon's packaging — virtually everything they sell is delivered in a cardboard box or paper or plastic envelope along with padding, often plastic. While corrugated cardboard still has recycling value, recycling plastic is in big trouble, with a combination of low prices for "virgin" plastic and difficulty keeping the recycled plastic stream uncontaminated enough to be usable. (Glass and paper are also in trouble.) 
One of the interesting things about this is that because Whole Foods is a store where many people go for food, picking up Amazon orders there could lead to improvements in packaging sustainability, as items would no longer have to survive "the last mile" in a postal or other delivery truck. Amazon could even start to use reusable totes, like those you see piled high outside the CVS. However, picking up your Amazon order at Whole Foods could also mean less work for the Post Office, so in our topsy-turvy consumer world, part of the U.S. Postal Service's significant competition could end up being Whole Foods.
suggestions and responses:
s: "Sun-dried tomato pesto: It is fine the way it is, but I think too dry and not blended as a pesto — it has changed, it is fine for some dishes but not in cream sauces, olive oil sauce for pasta, etc."
r: (Dan MA) I believe the last few batches have been more pureed and appropriate for a pesto. Let me know next time you're in.
s: "Green bananas. Hard as a rock, tried one for three days, one for five days. Both very hard."
r: (Norman) Bananas are typically picked green and ripened in a controlled fashion (using a combo of temperature, humidity and ethylene gas) by shippers and wholesalers on the way to market. There are lots of opportunities for things to go wrong, including the fruit being picked too green to begin with, getting too cold sitting on a loading dock or the wrong temperatures — high or low — in the truck or shipping container. Placing green bananas in a paper bag for a few days sometimes helps. Also, occasionally bananas will ripen even though the peel stays green. Give them a gentle squeeze and if they feel like a ripe banana, peel and see. If it turns out you got some bananas that won't ripen, you can always cook them like plantains. FYI, Weavers Way stocks fair-trade bananas when we can get them (we sell "regular" organic if we can't), because conventional bananas have a terrible track record of worker exploitation and environmental damage.
s: "What's with the new soup lids? Are they compostable? Recyclable?"
r: (Norman) Short answer is not really and no. Here's the long answer. Some of our packaging is sourced through our co-op trade group, National Co-op Grocers. NCG recently decided to switch to containers lined with polylactic acid, as well as lids made from PLA. NCG maintains PLA is a better choice than petroleum-based plastic-lined cups and lids because PLA is made from a renewable resource, typically corn. While PLA has its issues (corn is GMO and PLA is not recyclable like petroleum-based plastics), NCG believes it also has possibilities because it can be composted, but only in giant, high-volume, high-temperature commercial composting factories that are currently pretty rare. In my opinion, the reality is there is no such thing as manufactured sustainable single-use packaging. 
(Editor's note: Weavers Way Composting Tsar Scott Blunk says he doubts PLA actually decomposes; it just breaks down into microscopic pieces: "If it has 'poly' in the name, it doesn't matter if it's made from corn.")
s: "Cascadian Farms or some other french fry besides Alexia. Alexia's quality assurance is bad and their customer service is worse. Alexia takes up six shelf spaces and Cascadian takes up two, so please don't tell me 'no room.' "
r: (Matt MA) I'll look into other Cascadian offerings. Thanks for the suggestion! (Norman) Frozen organic potato products are big business. Cascadian is owned by General Mills and Alexia is owned by Conagra.
s: "Metropolitan Bakery makes a fantastic breakfast bread, I think it's a date-walnut loaf or something like that. I never see it here, so wondering if we could add a few to the Metropolitan order, or get more if you already do."
r: (Matt MA) We carry a Metropolitan raisin-nut loaf. Because it's a specialty loaf, we don't get many of them in, but we'd be happy to set one aside or special-order it for you. Contact me at ext. 140 or matt@weaversway.coop.
s: "Please stock more variety of frozen Amy's. You are very heavy on enchiladas & pot pies. There are many other things & we depend on this for lunches!"
r: (Matt MA) Thanks for the suggestion. I'll look into what else they have to offer. Please let us know if there's anything specific you'd like to see.
s: "Canned jackfruit? (Fresh ones are too huge for a single person.) Thx."
r: (Norman) We do stock canned Edward & Son brand at our Ambler store, and a few prepared varieties at our Mt. Airy and Chestnut Hill stores — ask a grocery staffer to help you find it. In the interest of balance, for every jackfruit variety we stock, we also stock a corresponding jillfruit.
s: "I've heard of Uber Eats but I think that is not a sustainable practice as it is basically adding more transportation to food, which means getting the food consumes more energy, which must be supplied from somewhere, be it fossil fuels or electric power or whatever. Is there a more sustainable alternative for getting our Prep Food to us without us coming to stores to pick it up?"
r: (Norman) We're exploring a partnership with SEPTA that will install a designated rider on each bus that passes one of our stores. We'll have an app where you tell that rider what you want, and they will hop off bus, pick up your order, hop back on and deliver it to a bus stop near you. Practiced users have perfected the handoff via the middle exit door so the rider can stay on the bus. Future plans include being able to have the designated rider also bring you your Amazon order. The ultimate goal is for consumers to be able to purchase all consumer needs without ever leaving the house. SEPTA, like the U.S. Postal Service, seems uniquely configured to accomplish this without high investment in new infrastructure, like drones or teleportation stations, both of which are expensive, noisy, have high overhead and are resource intensive.
s: "Why is the bulk price of Mu Mu Muesli $6.99/lb. when you also carry a 20oz. package of the same product on the shelf for $7.35? The per pound price of the packaged muesli is $5.88/lb. Who would pay extra to buy it in bulk? I thought the bulk bins were supposed to offer savings as well as reduced packaging."
r: (Norman) Thank you for bringing this to our attention. In general, bulk is less expensive. However, since our markup for bulk is higher than our markup for packaged grocery, sometimes the lower cost of bulk is not enough to span the difference, so we have to adjust the pricing to make the bulk less expensive. We missed this item, now corrected.