by
Maura McCarthy, Executive Director, Friends of the Wissahickon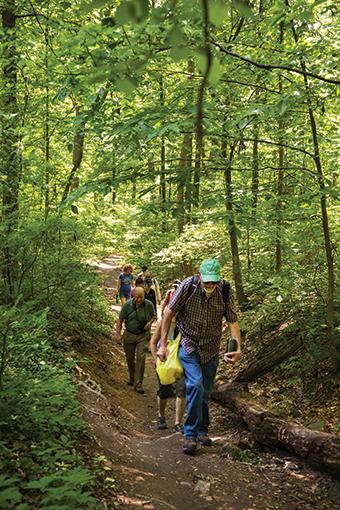 Three New Member Hike dates have been scheduled for 2019:
Saturday, May 4, 1-3 p.m.
Sunday, July 14, 9-11 a.m.
Sunday, Oct. 20, 1-3 p.m.
Space at each hike is limited to 30 total participants — 15 from Weavers Way, 15 from FOW. Register at either fow.org/events or weaversway.coop/events.
Weavers Way and Friends of the Wissahickon (FOW) have always worked together in some way. It just makes sense on several levels. After all, both organizations seek to enhance the community in which our members, friends and neighbors live and work. And we share a commitment to the environment and stewardship of precious resources, whether it's local and organic farming or the infrastructure and habitat of Wissahickon Valley Park.
In mid-2015, Weavers Way and FOW decided to solidify the relationship and started developing ways to work together in a more direct, strategic way. Long-time Co-op member and FOW Trail Ambassador Shelley Brick played an integral role in connecting our outreach staffs as we started planning joint projects. Our first initiative: this column in the monthly Shuttle. Then came inviting Co-op working members to participate in FOW volunteer service days to satisfy some or all of their annual required work hours. We share each other's materials. And Weavers Way has generously donated food for some of FOW's events and taken out ads in our annual calendar.
We greatly value our partnership with Weavers Way, so we're excited to announce FOW's newest mutually beneficial endeavor, which launches this spring: a series of guided hikes for new Co-op members. Folks who have just joined Weavers Way will be introduced to FOW's history and scope and will learn how its mission ties to that of the Co-op, all while experiencing the trails first-hand and earning two hours of working member credit for participating.
These new Member Hikes were conceived as a way to encourage Weavers Way member-owners to explore the Wissahickon Valley as a defining feature of the neighborhoods both they and FOW serve. Participants will also learn how they can continue to earn Co-op work hours by volunteering with FOW.
Members of FOW who are not member-owners of Weavers Way are also welcome to participate in the New Member Hikes. Both organizations will have information and membership materials available.