by
Whitney Lingle, Executive Director, Senior Adult Activities Center of Montgomery County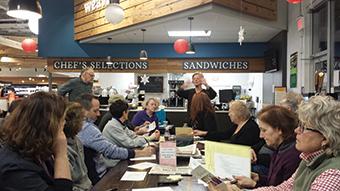 Aging happens everywhere. If we're lucky, we will all take part. It is an inherently intersectional issue, and the solutions to promote positive aging are complex and require community support.
In January, Kathleen Casey, Weavers Way Development Manager, and member Marilyn Frazier organized a meeting to discuss aging in place and how it affects the Ambler community. The café at Weavers Way Ambler was filled with around 40 people excited to discuss what aging in place means to them, offer their concerns on the subject, and address current barriers to that option.
Aging in place refers to remaining in one's residence of choice, whether that is a person's original house, cooperative housing, or myriad other options. The critical components to aging in place are sufficient transportation, access to needs and the ability to add supports when health and mobility change. Other issues brought up in the meeting include community resources, supports for those without children, dignity, equity, diversity and social isolation.
In addition to community meetings, a needs assessment will be undertaken to determine what resources are currently available to those in the community (including health organizations, transportation assistance and food access), what gaps exist in services and resources, and what solutions are feasible. Surveys and focus groups will be an important component of determining the current state of aging in Ambler, and the data they provide will serve as a roadmap.
No single entity can solve the complex issues related to aging in place. Aging is an intergenerational issue, and stability in one generation helps cultivate success among all generations. By supporting people as they age, we allow them to continually engage as productive community members. Resources like Northwest Village Network (NVN), where people support their neighbors as they age, and senior centers like Montco Senior Adult Activity Center (SAAC), which promote positive aging at every level through activities, community building and services like Meals on Wheels; all help make aging in place possible.
Aging in place requires shared supports and shared information within a community. Those who attended January's meeting ranged from older individuals interested in their options to representatives from NVN and professionals from area senior centers and community organizations. The hope is that future meetings will have an even more diverse range of interested parties.
We hope you will join us as we continue the conversation. Check the Monto SAAC Facebook page or www.Montcosaac.com for subsequent meeting dates and other information.