by
Kathleen Casey, Weavers Way Development Manager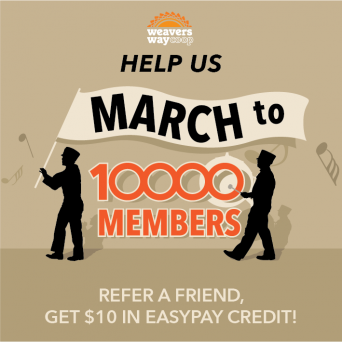 The Co-op signed up its 5,000th member in October, 2012. More than three years later, we reached 6,000 and in April 2017, we hit 7,000. Now we're on the cusp of 10,000 members, and we're asking your help to get us there that much faster.
In March, we're offering members $10 in EasyPay credit when they refer a new member to the Co-op. It's easy; just make sure your friend gives your name (to share )when they join in person or online; they don't need to provide your member number. Soon thereafter, your Co-op buying power will increase by ten bucks. What's more, you, your friend, and all our members will be able to enjoy the great discounts during our Member Appreciation Week, Monday, April 1-Sunday, April 7.
Right now, we're a few hundred new members away from our goal. We've had incredible growth these past few years, and that has created a strong foundation to accomplish our objectives, from growing a resilient business to getting direct input on our buying practices. Weavers Way staff often witness people engaging with the store, the staff, and the programming in meaningful ways soon after they join. Collectively owning a business has its benefits and the more of us, the better.
If you have questions about any membership-related matters, contact the Membership Department: member@weaversway.coop or 215-843-2350, ext. 119.