by
Maura McCarthy, Executive Director, Friends of the Wissahickon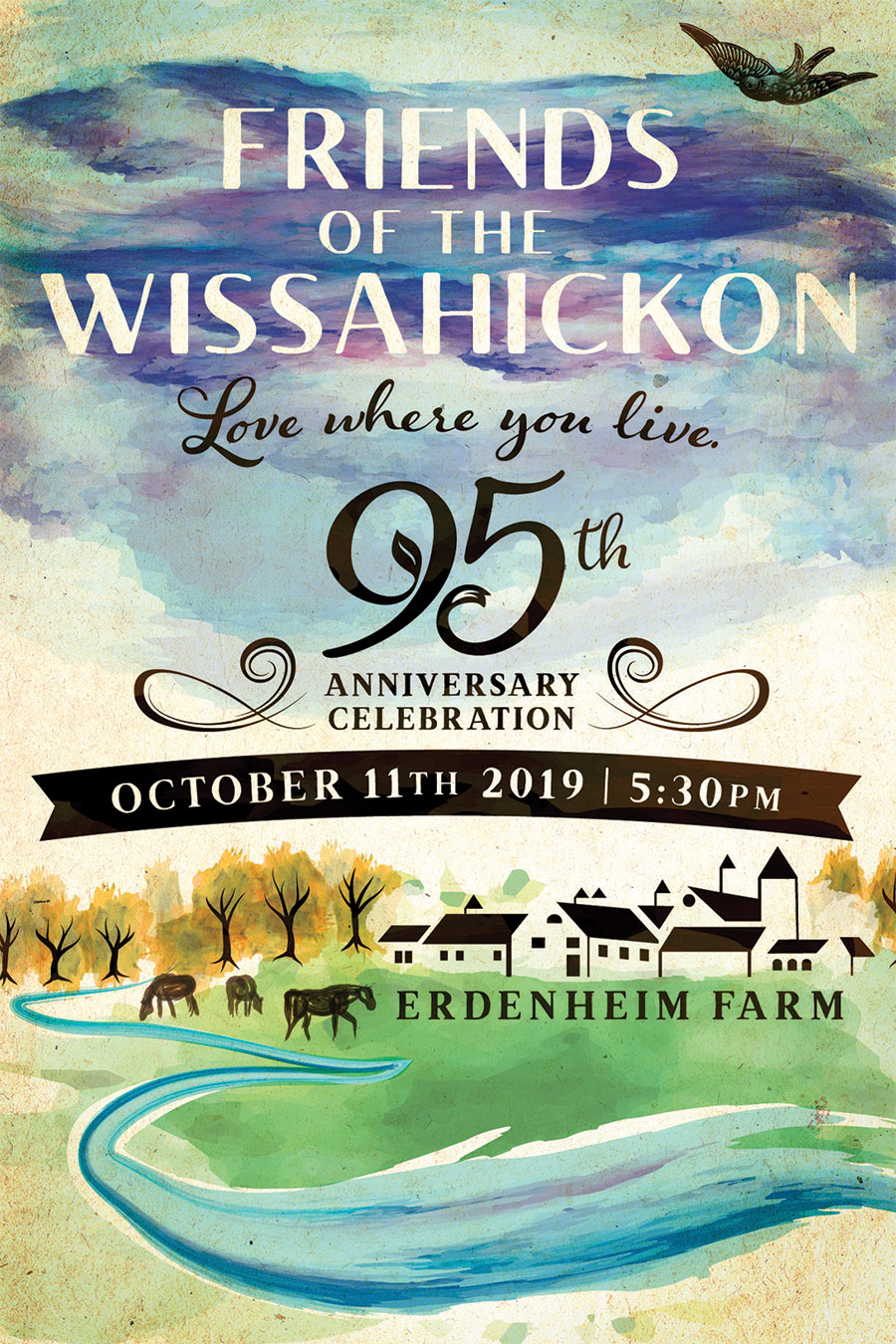 Join us for a festive farm dinner and dancing to celebrate this momentous occasion as we look forward to a century of service for our beloved Wissahickon. For ticket information, visit www.fow.org/event/95thanniversary/ or contact Sarah Marley at marley@fow.org.
In 1924, a group of concerned Philadelphians came together after a damaging winter storm and raised thousands of dollars over the next decade to plant native trees, shrubs, and wildflowers in Wissahickon Valley Park. They were the first Friends of the Wissahickon.
This year, FOW marks 95 years of park stewardship. Our once small group of dedicated citizens has evolved into a vibrant, engaged community of more than 3,000 members and neighbors, along with corporate and civic partners. Thanks to the tremendous outpouring of support from this growing network of friends, the Wissahickon Valley and waterway is stronger than ever. Our founders would be proud that their legacy of civic responsibility and environmental activism ensured the beauty, history, and habitat of one of Philadelphia's great resources continues.
FOW's special year culminates with our "Love Where You Live" 95th anniversary celebration on Friday, Oct. 11 at Erdenheim Farm in Whitemarsh and Springfield townships. This location is particularly fitting given its significance as a green space and the critical environmental role it plays. Erdenheim Farm embraces a portion of the Wissahickon Creek and forms part of the greenway system that begins at the creek's source in Montgomery Township and extends south through 11 municipalities to the Schuylkill River (the final seven miles of the creek flow through Wissahickon Valley Park.) A working farm, Erdenheim Farm is owned and preserved by Peter and Bonnie McCausland. They granted easements for the construction of public trails on the perimeter of several tracts, which enabled the completion of the Montgomery County Green Ribbon Trail linking Ft. Washington State Park and Wissahickon Valley Park. The easements also connect the Township trail system.
We will be honoring two individuals who have been essential to the fulfillment of FOW's mission: Past President Cindy Affleck will receive our long-standing Wissahickon Award, and Philadelphia philanthropist David Haas will receive FOW's inaugural Founders Award. Funds raised from the anniversary celebration will support our mission to..."conserve the natural beauty and wildness of the Wissahickon and stimulate the public interest therein."
We are grateful for the support of current sponsors: James Corner Field Operations; Skelly & Loy Engineers; Bryn Mawr Trust; Mitchell, Sinkler & Starr investment advisors; Aqua Pennsylvania; Glanzmann Subaru; UBS Financial Services; The Nature Conservancy, and McFarland Tree, Landscape & Hardscape Services.