by
Dorothy Bauer, Weavers Way Neighborhood Nutrition Team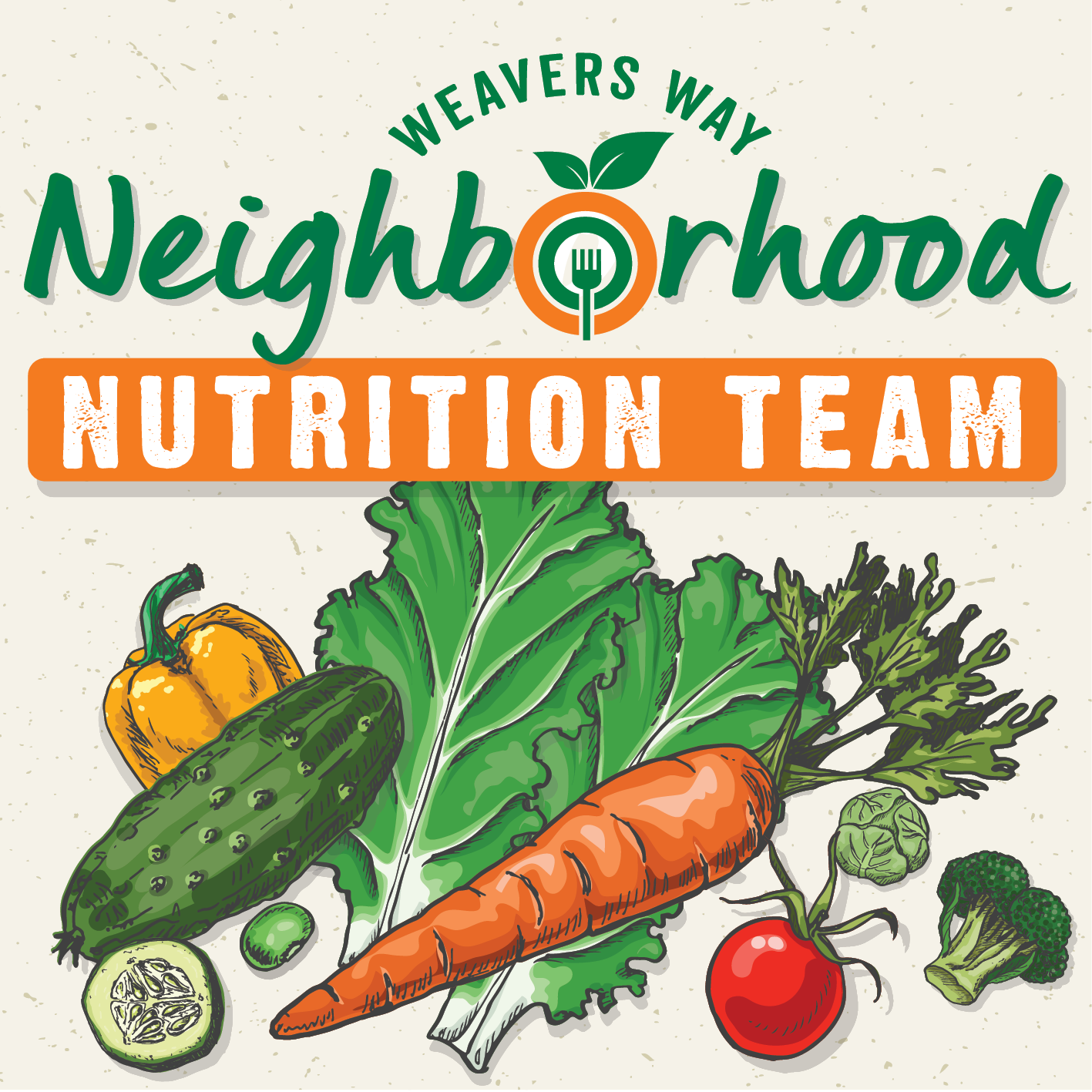 WHAT THE TEAM HAS IN STORE
Back to school season isn't just for the kids! This September, the Neighborhood Nutrition Team will inspire you with delicious and easy lunch box ideas, provide you with tips on eating healthy on a budget, share tricks and tips for expanding children's palettes and create sandwich wraps using fresh greens.
NEIGHBORHOOD NUTRITION TEAM OPEN HOURS AT WEAVERS WAY LOCATIONS:
Tuesday, Sept. 3, 4-6 p.m. - Ambler
Tuesday, Sept. 10, 4-6 p.m. - Henry Got Crops
Tuesday, Sept. 17, 4-6 p.m. - Mt. Airy
Tuesday, Sept. 24, 4-6 p.m. - Ambler
WORKSHOPS
Visit www.weaversway.coop/events.
At Weavers Way, there is no shortage of good deals to be had, with affordable food in particular ripe for the picking — pun intended!
Within the Co-op, we offer weekly specials and monthly deals. You can find flyers and pamphlets containing these deals prominently displayed in each store. I invite you to incorporate these finds into your weekly and monthly shopping trips; these savings, along with member discounts, add up.
I always keep an eye out for discounted produce and bakery items when I'm in the stores. Don't forget to check the freezer for marked-down fish and meat as well. Most departments have clearance items, sometimes with savings as high as 75% off — those bright red sale stickers indicating the discount sing, "Come to Momma!" If you need or want to save money, familiarize yourself with the discount bins and baskets. Each store has its cache, so get to know them and work it, baby! 
Now that you're a savvy shopper, with coupons in hand, remember to keep your eye on the prize. You're ready to navigate the stores with a new focus and intention. When it comes to produce and perishables, only buy what you can consume while it's still fresh. If you see ripe fruit marked down, way to go! But be sure to consider if you have the time and space to process it, even if it's half off or more. If your purchase ends up in the compost or trash, that's a bit counterproductive on the budget front.
We can't rely on finding ALL our purchases in the discount bins, but if you shop for fresh food that's local, it will likely be less expensive than something shipped in from who knows where. Let your menu-planning be directed by the seasonal offerings in the produce department. You should always have a good selection of fresh veggies and greens on hand and make friends with the less expensive choices. For example, I always have a bunch of collards in the fridge for wraps, or red and green cabbage as well. They both keep for a while and are a quick and nutritiously dense way to make a visually appealing, mouth-watering, and super-fast lunch, breakfast, or dinner! 
Challenge yourself to be creative with something new (and preferably inexpensive!) each shopping trip. Our talented department heads work hard to keep our shelves and cases stocked with the freshest options and the best values. Take advantage of their efforts — consider getting out of your comfort zone and trying something new!
If you own a spiralizer and it's not earning its keep, dust it off and see how much fun you and the family can have. A potato peeler, grater, food processor, or mandolin also will work. There's nothing better than an appetizing mound of nearly instantly obtained oodles of zoodles (a.k.a. zucchini pasta) and a quick sauce for a feast that's ready in less than 30 minutes. 
Another good method for saving money is preparing staples — for a day or two or the whole week — ahead of time. It may take some due diligence at first, but once you get in the habit of making a few basics (dressings, sauces or pates) and having them on hand, the panic of "OMG, what are we going to have for dinner tonight?" will go away. 
Don't have time to wash all those greens? This is where I consider a tub of organic, triple-washed greens a fair compromise in time/money management. A cabbage or romaine leaf serves as a perfect edible bowl to fill with greens and whatever you have on hand — just drizzle on a dressing and dig in!