by
Roberta Balsam, for the Shuttle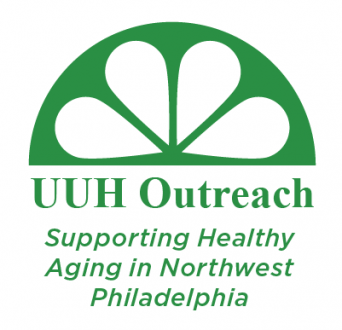 The UUH Outreach Program is in its 20th year of providing in-home services to older adults in Germantown, Mt. Airy, and surrounding neighborhoods.The board and staff will mark the occasion with a celebration on Wednesday, Sept. 25 at Cliveden of the National Trust in Germantown. 
Outreach, a free program supported by the Lycoming Fund, began as an extension of the former Unitarian Universalist House nursing home. While the nursing home closed in 2010, Outreach continues to carry forward its mission of assisting older adults in living safely with dignity. 
Since 1999, we have provided direct support to over 900 older adults, more than 300 of whom continue to be served today. One of Outreach's larger projects, our annual food drive, has benefited from the assistance of many Weavers Way members, who have donated, sorted, and delivered food to clients in their homes. Over the past dozen years, we have solicited and distributed more than $74,000 in client assistance funds for utility bills, medical expenses, grab bars, roof repairs, and home safety improvements — but the need is much greater. 
All proceeds from the anniversary event will go directly to Outreach clients in need of assistance with home maintenance, home safety, and home repairs.
We are a small neighborhood program with a mighty impact, and we look forward to serving our community for years to come. If you have an interest in joining our efforts to help older adults live safely and independently, please call 215-843-5881 or visit our website: www.uuhoutreach.org. There, you will find information about our organization and our upcoming event, including opportunities to serve as a sponsor. 
All of us at Outreach are so appreciative of our clients, our partners, and our community, and we are fortunate to be able to continue our meaningful work.
Roberta Balsam is social services supervisor at UUH Outreach.