by
Norman Weiss, Purchasing Manager and Jeannine Kienzle, Weavers Way Programs Coordinator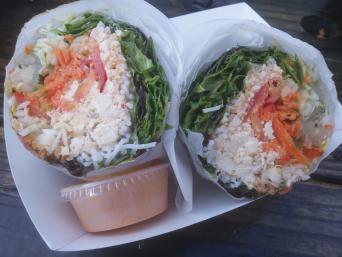 Recommendations:
Crust Vegan Bakery individual treats (Roxborough), Amy's vegan burritos, Michele's Original Tofu Tahini & Carrot Spread (Cheltenham)
Two vegans, one an old-timer and another newer to the scene, exchange banter on all things vegan, from products to events to controversial topics to the shelf life of rutabaga fondue.
This month, Norman and Jeannine discovered local vegan eats along Germantown Avenue in Mt. Airy and taste-tested the popular Spurrito!
J: What did you think of the Spurrito from the food truck PaperMill - Home of the Spurrito?
N: Pretty big and spicy.
J: Was it everything you hoped for?
N: I opted out of the avocado and wish I hadn't.
J: Avocados are expensive — it would've been an extra dollar.
N: But it would have toned down the spice and added a creamy texture.
J: Perhaps not getting it allowed for more room in your belly to eat at Milo - The Meeting House in Mt. Airy, the new vegan bar and restaurant.
N: How were your tacos at Milo's?
J: I would say pretty damn good and a unique pairing.
N: How did "pretty" become an adjective for "damn"?
J: How did "pretty" become an adjective for "big"? You love semantics.
N: I'm big on word meanings; "Spurrito," for example.
J: A Spurrito is described as a burrito-sized fresh spring roll wrapped in rice paper.
N: So they made up a word.
J: The tacos I ordered were called "Japanaise Tacos." I'm thinking they were Japanese inspired and perhaps Vegenaise was used in the ginger wasabi aioli sauce. How was your bok choy dish?
N: It was baby bok choy, which I'm a sucker for. It was pleasantly spiced with ginger and garlic, but a little sweet for my taste.
J: I think it would have been really good over rice.
N: It's interesting that a 100% vegan place opened in Mt. Airy.
J: I sure hope it does well. It's spacious inside with a lovely outside seating area. It'd be cool if they book bands frequently; I think that would help draw people into the restaurant. There's a full bar, too.
N: I noticed their veggie burger was Beyond Burger based.
J: Yes, they're quite popular. Last week, Burger King introduced nationwide the Impossible Burger on their menu. But you have to ask for it without the mayonnaise.
N: Subway is testing Beyond Meat meatball sandwiches. You have to ask for it without cheese. I wonder if the bread is vegan.
J: Everyone is aboard the vegan train. I appreciate the creativity of the menu items at Milo. My tacos consisted of tempura tofu topped with a seaweed salad and an aioli/guacamole mixture; nothing I've ever eaten before. Perhaps this is just the beginning for more vegan restaurants in Mt. Airy.
N: I'm thinking of Mt. Airy restaurants that have labeled vegan items on their menu: Earth, Grain Exchange, Fino's and Pop Pop's. How many vegans do you think are in Mt. Airy?
J: Out of roughly 29,000 people, maybe 500? I'm horrible at numbers. Looking at the trends, millennials are driving the shift to veganism and plant-based eating for many different reasons, especially environmental.
N: I wonder if the vegan whack job ratio will stay the same.
J: Why do you consider vegans whack jobs?
N: They all seem a little off. Do you ever wonder if you're perceived as a whack job?
J: I prefer "charmingly neurotic" and "creative genius."
N: I never thought of you as neurotic but now that you say it, I can see it. I wonder if vegan diets help with neuroses.
J: No. I think they only create more neuroses.
Find PaperMill food truck by following them on Instagram @papermillfoods. Milo - The Meeting House is located at 7165 Germantown Ave. in Mt. Airy.