by
Stacia Friedman, for the Shuttle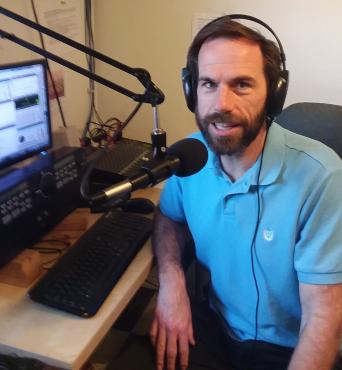 G-town Radio can now be heard on the air at 92.9 FM.
Visit www.gtownradio.com for more information, including the programming schedule, and also to stream G-town on the Internet.
G-town Radio is experiencing a major growth spurt long in the making. No longer just an Internet broadcaster, G-town can now be heard at 92.9 FM as WGGT-LP.
"After three years wandering in the desert, we finally flipped the switch," said station manager Jim Bear. 
The FCC awarded G-town its license to broadcast as a Low Power FM station in early 2015. So what took so long? "We had to ask for two extensions to raise the money [for broadcasting equipment] and plan the move to FM," said Bear. LP stands for low power, under 100 watts. But even at LP, the station's reach extends far beyond Germantown. "We have listeners in Chestnut Hill, East Falls, Roxborough, Mt. Airy, Wyndmoor, Glenside, Oak Lane, Nicetown and Jenkintown. Even North Philly and Center City."
G-town Radio shares its place on the FM dial with Germantown United Community Development Corp. and the Germantown Life Enrichment Center, collectively forming Germantown Community Radio Partners. Germantown United programming focuses on the Germantown business corridor, which includes the historic Maplewood Mall where G-town Radio's studio is located. (The block of Victorian storefronts is scheduled for a $2.2 million facelift; signs of rejuvenation are already evident in the lively Germantown Espresso Bar, next door to G-town Radio, and the trendy Uncle Bobbie's Coffee & Books just around the corner.)
Programming from GLEC, the Greene Street institution formerly known as the Germantown YMCA, includes a weekly show featuring the Germantown Artists Roundtable. Germantown United and GLEC broadcast only 10 hours per week each; G-town is on the air from noon Wednesday through Sunday night. (Also at 92.9 FM is South Philadelphia Community Radio, WOOM-LP, which is developing multilingual programming for its diverse community —including shows in Spanish, Vietnamese, Khmer, Italian, Bahasa and Lao — but given the distance, there is no interference with Germantown-area broadcasts.)
As befits a community station, G-town's programming reflects local passions and interests. At 4 p.m. on the first and third Fridays of the month, listeners can tune into "Planet Philadelphia," an environmental show hosted by Kay Wood. Foodies will enjoy "The Power of Food," hosted by Roslyn Thomas at 9 a.m. on alternate Saturdays. Looking for an intellectual challenge? "The Not So Hidden Agenda," hosted by psychologist Stephanie Hect, presents in-depth interviews at 5 p.m. Sundays. Other shows include "Sunday Dinner Mix Tape," "Democracy Now," "International Vibrations" and "Life Grooves," a talk-and-music show hosted by Suzanne B. Miller.
"We have live shows 40 hours per week, " Bear said. "We are always streaming. . . . We are on the Internet 24/7. When no one is on air, we rerun shows and play music." Not all the programs are recorded at G-town's studio. " 'Jim's Lower Lounge,' a music interview show hosted by Jim Hamilton, is taped at his fabulous recording studio, Rittenhouse Soundworks in Germantown, and then we air it," said Bear.
Being on FM will allow G-town to expand its audience to include listeners who do not have Internet access. It also offers more opportunities for community members who want to host programs or get behind-the-scenes broadcast experience. "We've seen a spike in the number of people approaching us to be involved," said Bear. "We're seeking programs from unheard or under-represented voices — programs that build community, that engage, empower and inform our listeners, as well as programs with a local focus."
G-town Radio is nonprofit and all-volunteer — including Bear. Professionally an IT consultant, he got hooked on community Internet radio back in 2000 when the medium was in its infancy. Funding comes from grants, fund drives and private supporters. "Hopefully, people will see the benefit in community radio and support it," said Bear.
This is a great time to get involved as a listener, supporter or host. "If your show fits our needs, we'll help you with training to get your show on the air. We're a beehive of activity," said Bear.
"Tune in to 92.9 FM and if you don't like what you hear, tune back in an hour later." Or get a gig yourself.
For more information, visit www.gtownradio.com or gtownradio on Facebook.
Stacia Friedman is a Weavers Way Working Member.