Weavers Way Board Names Jon Roesser General Manager
Former HR Director to Lead 'The Co-op'
FOR IMMEDIATE RELEASE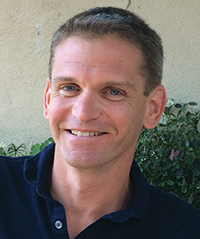 PHILADELPHIA, PA, Aug. 5, 2015 — The Board of Directors of Weavers Way, the cooperative grocery with locations in Mt. Airy and Chestnut Hill, has appointed Jon Roesser General Manager.
Roesser, 45, was Weavers Way's Human Resources Director, a post he held since October 2008. He had been serving as interim general manager since the departure of former GM Glenn Bergman on June 1.
"Besides doing a terrific job in Human Resources, Jon has acquired a wealth of experience in the ways of the Co-op — experience that we know will be invaluable as we navigate the challenges ahead," said Board President Chris Hill. "The Board believes Jon has the perfect temperament and set of strengths to guide us successfully through this interesting and challenging period of growth and competition."
A search committee with representatives from the Board, Weavers Way staff and Weavers Way membership, assisted by a consultant from Cooperative Development Services, engaged in a nationwide search before the full Board decided unanimously to offer Roesser the position, Hill said. He added, "We're delighted that he accepted our offer."
"I'm honored our Board of Directors has selected me to serve as our Co-op's next General Manager," Roesser said. "These are exciting times at Weavers Way, and I look forward to leading the Co-op as we continue to serve our communities and look for new ways we can grow the cooperative economy in Philadelphia.
"I'd like to thank our Board of Directors for the confidence they've shown in me. I'd also like to thank my amazing colleagues here at the Co-op, who have been so supportive and encouraging these last few months while I've served as interim general manager."
As HR Director, Roesser was a member of the Co-op's senior management team. He played an important role in the Co-op's recent growth, including the opening of the Chestnut Hill store.
"Weavers Way is about relationships, and there's nobody better at that than Jon," said Bergman, who left Weavers Way to become Executive Director of the hunger-relief organization Philabundance. "I know he understands Co-op principles and the value of community. I enjoyed working with him for six years. He'll be great at leading the Co-op through the transitions that lie ahead."
Before coming to Weavers Way, Roesser worked for 13 years at Adecco Corp., a global HR services company, in a variety of roles including director of Adecco's six-branch Philadelphia region.
A native Philadelphian, he graduated from La Salle College High School ('88) and La Salle University ('92), where he earned a Bachelor of Arts in Communications. He also has a Master of Arts in English from Arcadia University ('12). He lives in Cheltenham with his wife, Sharon, who owns a horticulture business, and sons Christian, 9, and Samuel, 6.
Founded in 1973 as a neighborhood food-buying club, Weavers Way has evolved into a $20-million-a-year operation, with two grocery and specialty health and wellness stores, plus a pet store and two urban farms with about 6.5 acres under cultivation. Weavers Way employs about 150 staffers. The nearly 5,400 member-owners also contribute a maximum of $400 in equity to support the enterprise. For more information about Weavers Way, visit www.weaversway.coop. To learn more about Weavers Way governance, visit www.weaversway.coop/about.