Tuesday, November 26, 2019 -

6:00pm

to

8:00pm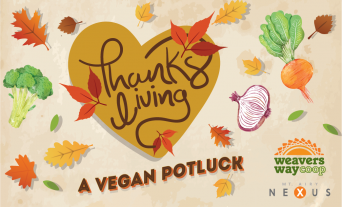 Celebrate ThanksLiving, an alternative gathering with food, gratitude, and friendly faces!
Enjoy a delicious vegan potluck with members of your community. Everyone is welcome, from the veg to veg-curious. Bring a vegan dish (no meat, fish, dairy, eggs, or honey) to serve 8-10 people. Food must be labeled on an index card with a list of ingredients to keep in mind those with certain food allergies. All dishes should be 100% vegan. BYOB your favorite bottle of cheer! The Co-op will supply a Field Roast Celebration Roast and some tasty beverages, including apple cider and seltzer.
This potluck is the OFFICIAL launch of the Co-op's newly formed Vegan Meet-Up group! The Vegan Meet-Up will gather monthly beginning January 2020. Stay tuned for more details at the potluck!
A suggested $5 cash donation is welcomed to support Red Robin Song Animal Sanctuary located in West Lebanon, NY. Donations will be collected at the event.
Please RSVP here so we can have a headcount. Space is LIMITED.
We'll be gathering at Mt. Airy Nexus, located at 520 Carpenter Lane, just down the street from our Mt. Airy store. This is a ZERO WASTE event — please bring your own complete placement setting for your meal.
Some suggested side dishes to bring:
Coleslaw
Stuffing
Cranberry salad
Mashed potatoes
Pumpkin pie
Creative, non-typical Thanksgiving dishes are also encouraged!
Red Robin's mission is to provide a forever home for rescued farm and domestic animals. They also rehabilitate injured and orphaned beavers and prepare them for release back into the wild. In addition, they work to educate the public about the many things people can do to make this a better world for animals while striving to improve our planet and the health of human kind.
Questions? Email Jeannine Kienzle, Programs Coordinator, at jeannine@weaversway.coop.
Organizer Name:
The Weavers Way Membership Dept.
Event Location:
520 Carpenter Lane, Philadelphia, PA 19119