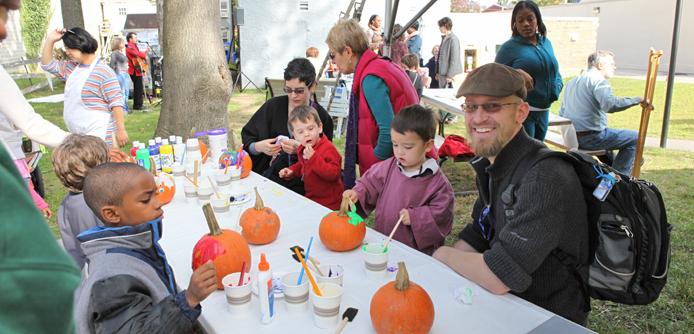 Become a Member
Everyone can shop at Weavers Way, but we encourage you join the Co-op and become a member-owner. 
Sign up now, or visit one of our stores and join right at the cash register.

Member Benefits
You'll save money with member-only specials, get 5% off Weavers Way products (including Weavers Way Farms produce) and be eligible for discounts at local retailers and service providers. Co-op services such as home delivery, special orders and cash back on checks and debit cards are available only to members. And members vote in elections and can serve on committees or run for the Board.
Working Members
Work hours are not required for Co-op ownership, but members who work at least 6 hours a year get an additional 5% off all their grocery purchases. 
Member Equity
Weavers Way member-owners are asked to invest a total of $400 in the Co-op, your share of ownership in Weavers Way. You can pay $30 each year until you have $400 invested, or just pay your $400 when you join. You can track your equity, or make a payment, in the Online Member Center. Your equity belongs to you; if you decide to leave the Co-op, your contribution will be refunded.
Pay It Forward!
Invest your entire Member Equity up front, and we'll give you a $40 Weavers Way gift card. Current members are also welcome to add an additional $400 to their Member Equity and we will give you a $40 Weavers Way gift card. The Pay It Forward campaign requires both new and current members to commit to keeping their Equity in the Co-op for one year.
Food for All
Shoppers who receive SNAP or WIC benefits are eligible to join the Co-op for a discounted equity payment and get an additional 10 percent off their purchases. For more details, read the Food for All article. 
Questions? Contact the Membership Office at member@weaversway.coop, or call 215-843-2350, ext. 119.  
Welcome Meetings
We encourage new or prospective members to attend one of our monthly Welcome Meetings. You'll get two work credits, and ff you haven't already joined, you can do so at the meeting. We also love to see current members at these meetings — and you'll get hours for helping out. We look forward to seeing you!
For more information about membership, contact Membership Coordinator Kirsten Bernal,  member@weaversway.coopor 215-843-2350, ext. 119.