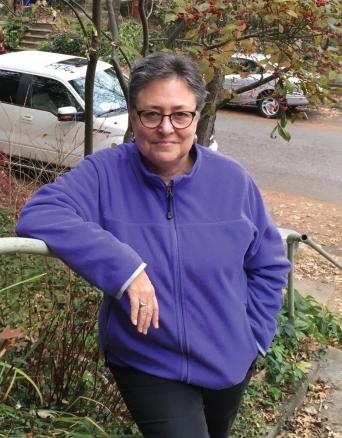 Current jobs: (1) Lead cashier in Chestnut Hill; (2) Weavers Way board administrator; (3) Human Resources review coordinator
Since when: She was hired for the Front End in October 2014. She started the board admin job in (?) 2016 and the review coordinator position in (?) (or vice versa).
Previous job: She was the digital media project manager at the Pennsylvania Horticultural Society for over 10 years.
Where she's from/lives now: Powelton Village/West Mt. Airy
Family facts: She has a daughter, Phoebe (23), an artist and musician.
How she got to the Co-op: She was laid off from her PHS job in 2011. Afterward, she tended a fifth of an acre garden plot near the Schuylkill Center for Environmental Education in Roxborough, selling her produce out of a farm stand outside the University of Pennsylvania bookstore. "And then I realized I wasn't ever gonna make any money, and it might actually kill me…I felt like I wanted a job that [doesn't have] as much stress, makes me some money [and] allows me to have health benefits."
Favorite Co-op products: Tony's Chocolonely milk chocolate bars with caramel and sea salt; grass-fed and naturally-raised meats, local produce
Thoughts on the jobs: "They are all different. The review coordinator job takes a lot of attention to detail...The front end is highly customer service-related and people related…The board admin stuff is interesting…I get kind of an inside view on what's going on at the Co-op."
Thoughts on the Co-op: "It's a really interesting place…In Chestnut Hill, it is definitely a community center up there… I like being a part of that, and making people feel really welcome."
— Karen Plourde