by
Bradley Maule, for the Shuttle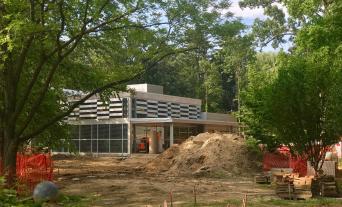 With construction starting to wrap up, the future of Mt. Airy's Lovett Memorial Library and Park is beginning to come into view. The Free Library of Philadelphia will spend the next few months stocking and prepping the library's reopening this fall, while the park space will intentionally start small and evolve into something bigger — based on what you, the public, want to see there. 
The renovation, which will finish well in advance of its two-year schedule, is part of two major initiatives: Building Inspiration: 21st Century Libraries, the Free Library's project to modernize four neighborhood libraries; and Reimagining the Civic Commons. With support from the John S. and James L. Knight Foundation and the William Penn Foundation, the Reimagining the Civic Commons initiative has focused on five "civic assets" across Philadelphia positioned to promote greater social and economic integration. 
What better place in Philadelphia than Mt. Airy to bring people of different backgrounds and different incomes together in the public sphere? And what better place in Mt. Airy than at Lovett, not only a beloved institution for over 130 years, but one at the geographic heart of the neighborhood, at the corner of Germantown Avenue and Sedgwick Street. 
To that end, Mt. Airy USA has partnered with the Free Library and the Fairmount Park Conservancy to reimagine Lovett's one-acre park space, with a goal of promoting intergenerational interaction and an emphasis on fun and education. 
What opens this fall may not be what exists next fall — and it's intended to be that way. 
Once Lovett Library reopens, we'll know the outdoor space better. Initially, the park will be open and flexible, a way of bringing the library outdoors, with portable furniture and a series of experiments that help us understand the space. We're inspired by the evolution of the Porch at 30th Street Station, and similar to the development of that gathering place, we'll ask the public to take some surveys and collect other information. 
The first survey is ready for your ideas. Mt. Airy USA invites you to visit bit.ly/lovettRFP and submit your events, your gatherings, your proposals to help us program this interactive park space. Moonlight Movies will definitely return to Lovett Park next summer, for example. What else would you like to see? Yoga in the park? A chili cookoff? Jazz concerts? Painting en plein air? 
There are no wrong answers, but there are four simple requirements — that what you envision:
Is free and open to the public.
Is accessible to diverse and intergenerational audiences.
Provides opportunities for interaction, enrichment and engagement.
Positively reflects the spirit of Mt. Airy.
Charlotte Lovett Bostwick founded the library in 1885 in memory of her brother, Thomas Lovett. The 1885 building has been renovated and will feature a great community and meeting room and an adult quiet room. The 1960 addition, with the main book circulation area, has also been improved with an enlarged computer lab. The new 2017 building will serve as a lively, colorful space for children, which, by way of a magnificent new porch, opens out to the renovated park space. 
The shape and feel of the new Lovett Park depends on your input. Help us out and take the survey at bit.ly/lovettRFP, and we'll see you at the grand opening this fall!