Summer Food Drive Helps Stock Shelves at Four Local Pantries
by
the Weavers Way Food Justice Committee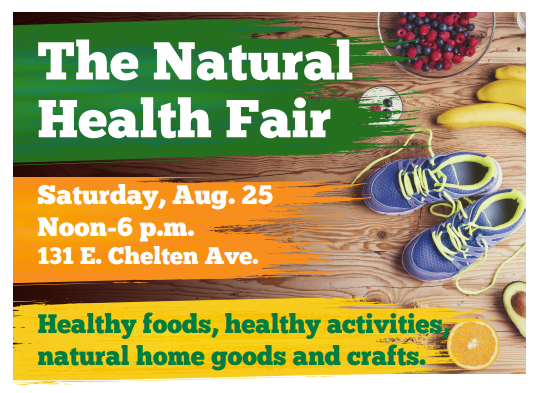 The Weavers Way Food Justice Committee is recruiting volunteers for the Weavers Way booth at this annual event. We'll be distributing fresh, healthy food, including the Co-op's own quinoa kale salad, fresh-ground peanut butter and garlic hummus, along with apples, carrots and celery. 
Interested in helping out? Visit www.naturalhealthfair.wix.com/2018 for more info or sign up on the Online Work Calendar (login required) or contact Membership directly at 215-843-2350, ext. 119 or member@weaversway.coop.
Months of planning and weeks of coordination between the Weavers Way Food Justice Committee and Co-op store staff paid off June 22-24 in a second annual "Hunger Doesn't Take a Vacation" that eclipsed the previous year's collection total. 
By the end of the weekend, FJC had collected nearly 3,300 pounds of potatoes, onions and shelf-stable food for the Holy Cross Food Pantry in Mt. Airy, the Mattie N. Dixon Community Cupboard in Ambler, St. Luke's Germantown Nutritional Ministries and the Germantown Seventh Day Adventist Church pantry. 
Dozens of volunteers from FJC and the Co-op as a whole spent anywhere from a couple of hours to more than 24 collecting, transporting and sorting donations under the scorching sun, cloudy skies and even an occasional rain shower. Store managers helped promote the food drive throughout the weekend with reminders over the stores' PA systems and with convenient displays reminding shoppers of wish-list items.
In the end, the amount of food collected was roughly 65% over the total from our inaugural summer food drive in 2017. This year, Weavers Way also contributed $280 in gift certificates so the four pantries can purchase items at-cost on an as-needed basis later in the year, and Weavers Way shoppers donated nearly $100 in cash. By any objective measure, the 2018 "Hunger Doesn't Take a Vacation" food drive was wildly successful.
The first Hunger Doesn't Take a Vacation food drive in 2017 focused on a very simple idea: When schools are closed for the summer, kids who otherwise receive free or reduced-cost lunches at school may go hungry. Classes may be out, families might be taking road trips, camping or splashing about at the Jersey Shore, but food insecurity doesn't "take a vacation" over the summer months. Attacks on nutrition-assistance programs like SNAP at the federal level make this simple fact even more true in 2018.
The FJC thanks everyone involved in making the past two years' "Hunger Doesn't Take a Vacation" food drives so successful.
For more information about the Weavers Way Food Justice Committee, visit our page at www.weaversway.com/food-justice-committee. Meetings are held the first Wednesday of the month at various locations; check the web page or the Weavers Way Online Events Calendar for details.