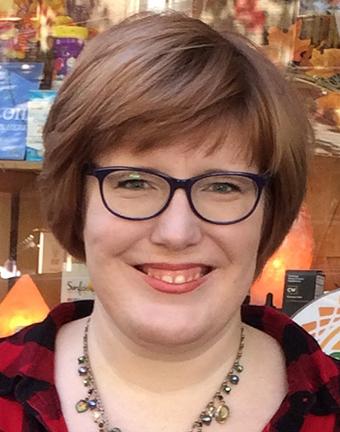 Job: Chestnut Hill manager on duty, Next Door staff.
Since when: She was hired as a cashier in the Hill in February 2015.
Age: 31 on Nov. 18.
Where she's from/where she lives now: East Mt. Airy, with her parents, Kathy and Tim.
Other family facts: Her older sister, Caitlin, lives in Media and is the arts supervisor at Delaware County Community College.
How she got to the Co-op: She was cashiering at Target while working on a teaching certificate at Eastern University, and "I decided I couldn't stay in Target anymore. I've always known about the Co-op, I've always loved their mentality, and I was like, 'I want to work somewhere that I would actually love and support the values of the company I work for.'"
Education: She earned a bachelor's degree in history from Penn State Abington in 2012, and got her certification in secondary education social studies from Eastern in December 2015. But she's since given up on the idea of being a teacher. ("I couldn't help the kids the way I want to help them.")
Future plans: She's begun the process of going into Episcopal seminary and getting her Master of Divinity degree. She'd like to become a deacon or a chaplain.
What she likes about the job: "I love that I get to help people. I get to work somewhere that I love the people I work with, and I love what I do."
Outside pursuits: She's a youth group leader at St. Peter's Episcopal Church in Glenside, where she also sings in the choir. She's a member of the Singing Owls Community Choir at Temple and an avid World of Warcraft player.
Favorite Co-op products: All the baked goods from My House, Zuzu Luxe makeup, Demeter body sprays, the vegan banh mi.
A little (more) Co-op love: "I've been here for almost four years. I've been through two general managers, so I've seen how it's grown, and it just keeps getting better, through ups and downs."
— Karen Plourde