by
Kieran McCourt, Weavers Way Ambler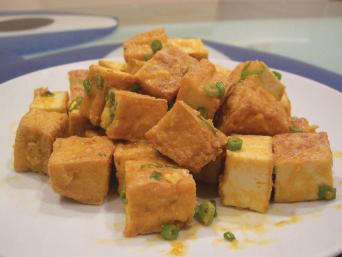 It's soybean curd, and can be found packed in water in vacuum-sealed packaging.
It's famously known for its mild-to-bland flavor.
It's a great plant-based source of protein as well as other nutrients, and is especially known for its low caloric content.
Types of Tofu
Silken — known for its smooth and silky texture. Won't hold up well when baked or stir fried. Great for making dips and spreads, like spinach and artichoke dip. Can be blended into smoothies or a pancake batter to add protein.
Regular — the blocks found in the refrigerated sections. They're great baked, sautéed, fried and more. It's important to prepare firm blocks at home by pressing the tofu between paper or clean kitchen towels, weighed down by your heaviest pots. (There are specialized tofu presses that can do the same.) Otherwise, water inside and on the surface will prevent a nice sear or fry for maximum flavor.
Firm and extra firm tofus can be marinated before cooking to bump up the flavor. Tossing your tofu after cooking in a flavorful sauce will help give it a bit more punch. Firmer varieties can also be sliced and breaded to make plant-based nuggets and cutlets; make sure to season your flour and breadcrumbs.
Vegan breading tip: The egg dip can be replaced with a plant-based milk thickened with mustard and/or a vegan mayo.