by
Norman Weiss, Purchasing Manager, and Jeannine Kienzle, Weavers Way Programs Coordinator
Recommended products:
Sweet Lana's Vegan Express Scrapple
Big Tree Amber Coconut Nectar
Lotus Foods Rice Crackers
Lightlife Tempeh
---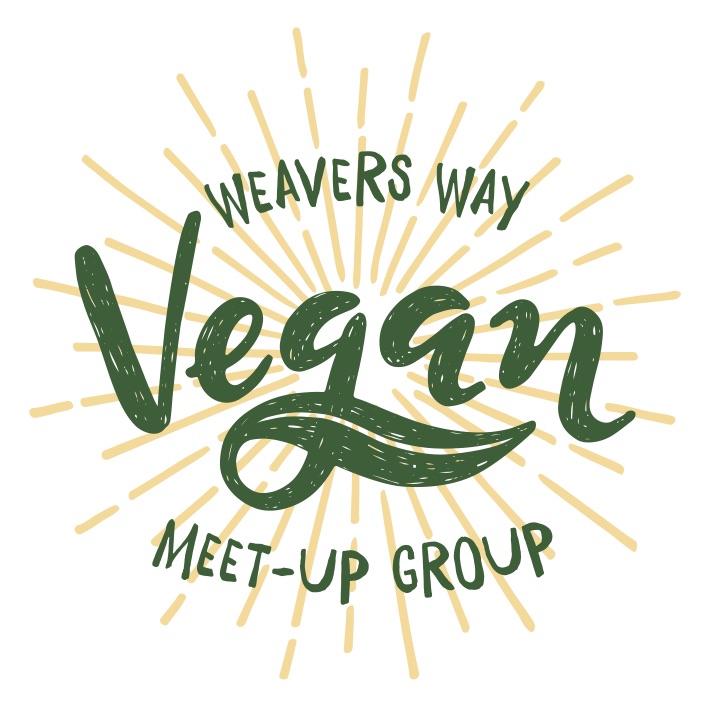 Weavers Way Vegan Meet-Up Group
Tuesday, March 10, from 6:30-8 p.m.
...at the Education Center Building at the Agricultural Village of Awbury Arboretum for a vegan comfort food meet-up! The group is open to all, from the veg to the veg-curious. All dishes must be 100% vegan — no meat, fish, dairy, eggs, or honey. Check out Jeannine's article on the origins of the group here.
Two vegans, one an old-timer (Norman) and another newer to the scene (Jeannine), exchange banter on all things vegan, from products to events to controversial topics to the shelf life of rutabaga fondue.
N: Have you tried or heard of any new vegan products this month?
J: I happened to try the Sweet Lana's Vegan Express scrapple that we sell in Chestnut Hill and Ambler. I made some for you to taste. What did you think?
N: I never had scrapple before, so I can't compare it to anything. I liked it and it tasted good. How did you fry it?
J: I enjoyed it, too. Sweet Lana's is a local company from West Chester. I used a lot of oil on high heat and let it sit for a bit on each side before flipping it so that it formed an outer crust and was tender inside.
N: What does it go with?
J: Well, it's typically served as a side breakfast item that people eat with eggs. I would serve it as a side dish to tofu scramble or put it on a breakfast sandwich. I dipped mine into maple syrup. It's not something I grew up eating either, but they did a fantastic job creating a vegan version.
N: I bet it'd be good with fried onions, green peppers or mushrooms.
J: Speaking of other new vegan products, there's a new bacon patch on the market to help struggling vegans with their bacon cravings.
N: Sounds weird. Do you ever get food cravings?
J: Yes, practically every day. Yesterday, I was craving dumplings.
N: I'm not sure I get cravings. What does a food craving feel like?
J: It's a strong desire for a specific food item, like dumplings.
N: When I was a teenager, I think I got sugar cravings. I remember one night I was studying at home and I got a craving for Lemonheads, so I drove to the local 7-11 and got a box.
J: That about sums up cravings to me!
N: But I don't think I've had any food cravings in decades.
J: Not even for methyl cellulose? It's a common ingredient now found in certain plant-based products.
N: I read about Trader Joe's new vegan patty and when I looked at the ingredients I saw methyl cellulose. It has a diversity of uses — everything from a food ingredient to a laxative to sexual lubricant.
J: I read animal studies indicate that methyl cellulose may promote colorectal cancer at levels typically present in processed foods.
N: Speaking of processed foods, I also saw Just Egg came out with a foldable version.
J: I have no idea what that means.
N: It means they saw a market for vegan eggs that can fold. I'm craving foldable foods.
J: Like a dumpling! Did you happen to catch the Oscars?
N: Nope. I don't really watch the Oscars and I don't see a lot of movies.
J: I didn't watch it either, but I happened to catch a clip of the Best Actor acceptance speech by actor Joaquin Phoenix. He spoke about injustice in the world and mentioned the dairy industry and the poor treatment of mother cows just so we can have milk in our coffee and cereal. He's using his voice to bring attention to animal abuse, which I've never seen or heard at such a popular Hollywood event.
N: Did he use the term 'plant-based'?
J: No; neither plant based nor vegan. His main point was injustice for all sentient beings.
N: The Co-op has a Food Justice Committee. So far, the group focuses more about access to healthy food rather than animal welfare. I think the concept of food justice is a fairly recent phenomenon, which makes me wonder if in the past people were ignorant of it or it didn't have a name.
J: Maybe folks weren't craving food justice?
N: I guess some cravings take a while to surface.
J: Cravings manifest quicker if you consume processed foods containing additives and preservatives.
N: Apparently, we crave salt, sugar, and fat. Lots of the food industry is based on the cravings for these substances. I wonder if a vegan diet has more or fewer cravings or cravings similar to someone following a non-vegan diet.
J: Well, as a fellow vegan, I have cravings all the time; my biggest is typically salt. I read that processed plant-based meat is still a healthier alternative to animal meat. The source of fat matters.
N: I guess scrapple is a sustainable fat because there are meat parts that would otherwise be scrapped.
J: I wonder what they'll think of next...a scrapple patch to ward off those cravings?
N: A patch for every craving.
J: I think there's a market for it.