Neighborhood Nutrition Team: Celebrate Summer with a Healthy Twist
by
Liz Traison Witkin, Weavers Way Neighborhood Nutrition Team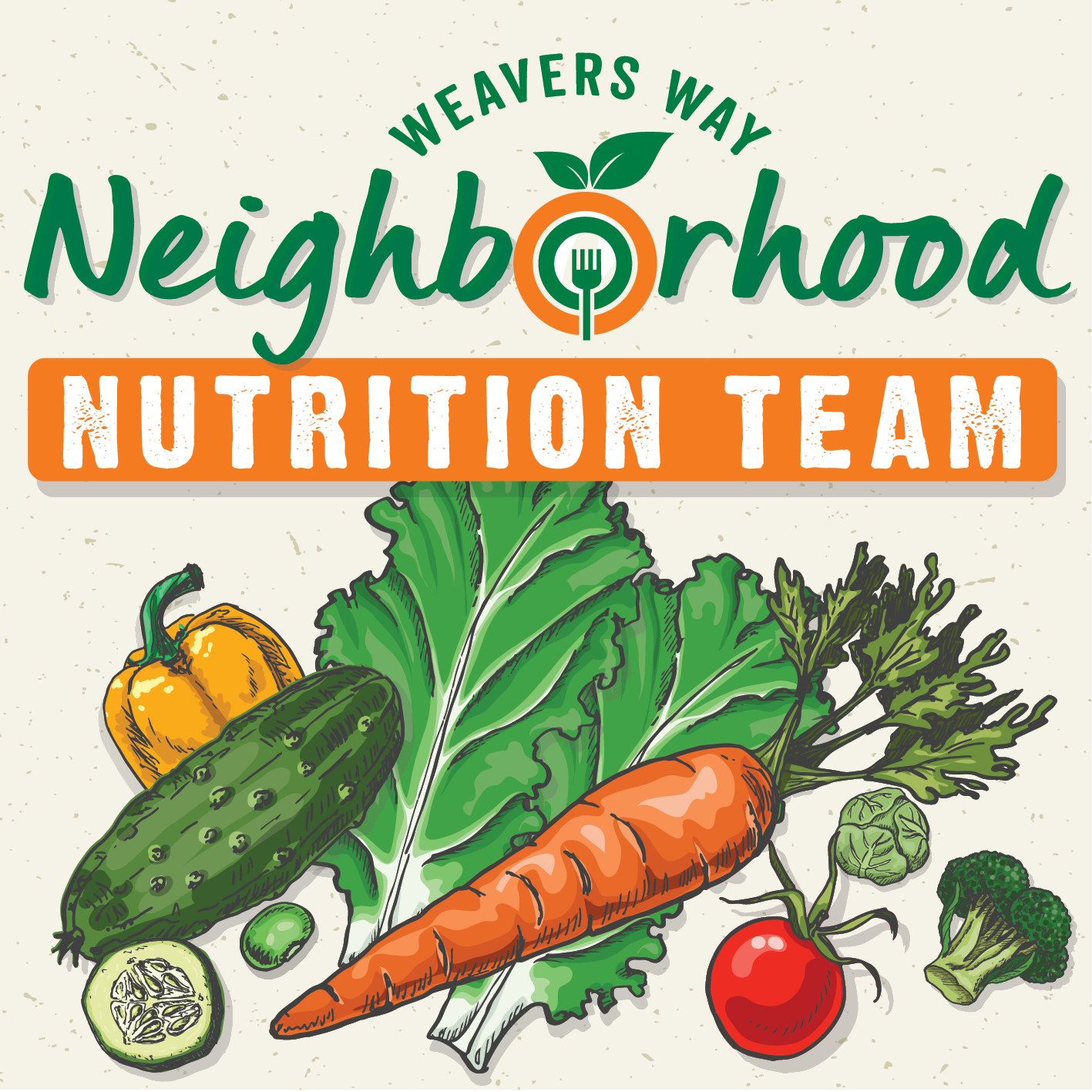 WHAT THE TEAM HAS IN STORE
'Tis the season for summer picnics and BBQs! The Neighborhood Nutrition Team will cover workshops on safe grilling tips & DIY marinades, cooking with seasonal foods, exploring the You Pick herbs at Henry Got Crops, and more. We're excited to announce that we've expanded the Neighborhood Nutrition Team programming to our farms as well as all three store locations!
NEIGHBORHOOD NUTRITION TEAM OPEN HOURS AT WEAVERS WAY LOCATIONS:
Tuesday, June 4, 4-6 p.m. - Mt. Airy
Tuesday, June 18, 4-6 p.m. - Ambler
Tuesday, June 25, 4-6 p.m. - Backyard of Chestnut Hill
Friday, June 28, 4-6 p.m. - Henry Got Crops
WORKSHOPS
Visit www.weaversway.coop/events.
School is out, the sun is shining, and gardens are in full swing: Summer has officially arrived! It's hard to mess with the wonderful traditions of backyard barbecues and ice cream, but there are plenty of ways to make classic summer recipes healthy and delicious. Try these tips for flavorful meals packed with good nutrition to keep you feeling well all season long.
Summer weekend gatherings often call for firing up the grill. Making skewers or kebabs is a great way to offer a variety of different options for meat-eaters and vegetarians. Use large cubes of zucchini, summer squash, eggplant, pepper, and onion along with a protein such as chicken or tofu. Make your skewers as colorful as possible to obtain a variety of nutrients and phytochemicals from your food. Including lots of veggies with a bit of protein is a great way to cut down on cost and environmental impact as well. Kebabs are easily customizable and quick to make, and they can be prepared a day in advance as long as they are stored according to food safety practices.
With summer produce at its peak, it's hard to go wrong with simply chopping up a few different types of vegetables over a bed of spicy arugula or buttery lettuce. Red fruits and vegetables have a nutrient called lycopene, a type of carotenoid that provides antioxidants that enhance immune function and help protect the skin from the sun. (Not enough to forget about wearing sunscreen though!)
Try an interesting twist on a summer classic, the Caprese salad. Add sweet, juicy nectarines to succulent summer tomatoes, fresh mozzarella, and some hand-torn basil. Drizzle with olive oil and a sprinkle of salt for a colorful combination of sweet and savory produce. 
Crunchy, creamy coleslaws are another summer favorite, but those mayonnaise-based dressings can sneak in a lot of extra calories. Instead of mayo, use Greek or regular yogurt for a tangy, lower-fat, higher-protein alternative. Try a smashed avocado in an egg or tuna salad for the same great texture with healthy fats. The vitamin E in avocados is essential for nerve and muscle function, so it can help keep you up to snuff for your favorite summer activities. 
While there's nothing quite like the feeling of hearing an ice cream truck coming down the street on a hot day, there are healthier dessert recipes, with all the flavor but less added sugar to cool you down. Blend fresh or frozen fruit with yogurt in reusable popsicle molds for a creamy, hot-weather treat. Try combinations that make the most of what summer has to offer, such as blackberry and basil, watermelon and mint, or even a sweet corn flavor. 
Pies are another summer classic. For a healthier twist on pie crust, pulse oats, nuts, and dates in a blender until they come together, and then press this mixture into a pie tin. Oats are rich in fiber, nuts provide healthy fats, and dates act as a natural sweetener for a rich, healthier pie crust. 
Make the most of your summer with these tips and tricks for healthier seasonal recipes. And be sure to check out our workshop on Aug. 7 for a demo on dairy-free ice creams!