Join the Earth Day Weekend Green-for-All
WORKSHOP
Dividing Perennial Plants
Sunday, April 22, 10 a.m.-noon
Ned Wolf Park
Corner of McCallum & Ellet streets. FREE.
RSVP & info: www.weaversway.coop/dividing
NED WOLF PARK PLANT SALE
May 19, 10 a.m.-1 p.m.
For info, contact Eric Sternfels at ericsternfels@icloud.com.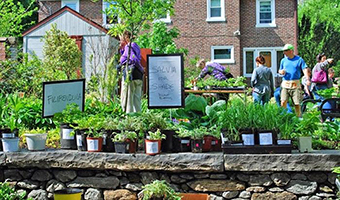 On the weekend of Saturday, April 21-Sunday, April 22, people around the globe will celebrate Earth Day, a national day of awareness created more than 40 years ago in response to rising consciousness about the impact of pollution on the planet.
On Saturday, from 11 a.m. to 3 p.m., get in the act and join friends and neighbors for a Mt. Airy Village Earth Day celebration.
The Henry School PTA will host its annual plant sale, which helps support the school's organic garden and classroom lessons given by farm educator (and former Weavers Way farmer) David Siller. You'll find a variety of perennials, annuals and herbs for your garden. The Co-op will also have a selection of native plants available for purchase.
After you've finished your plant-shopping, stick around Greene and Carpenter for live music, food trucks, kids' activities and more.
Learn about and visit with feathered friends from Philadelphia Backyard Chickens along Henry School's "front yard." Join Co-op member and Penn State Extension Master Gardener Howard Goldstein for a fun-for-kids activity about the importance of pollinators in the world around us. More children's activities can be found a short walk down the block on the lawn of Summit Church, 6757 Greene St. And be sure to stop in at the Big Blue Marble Bookstore to peruse an amazing selection of books about gardening, sustainability and other eco-friendly topics.
Meanwhile, at the Chestnut Hill store, we'll have kid-friendly activities in The Backyard Saturday from noon to 4 p.m. We'll make bird feeders from recycled toilet paper rolls and plant herbs in recycled egg cartons.
Plus, we'll be hosting free eco-themed Weavers Way workshops in Mt. Airy throughout the weekend, including:
"Essential Bike Maintenance," led by Working Member Daniel Langlois, Saturday, April 21, noon-1 p.m., outside 559 Carpenter Lane. BYO bike!
"Planting a Home Medicinal Herb Garden," led by clinical herbalist and Working Member Libby Felten, Saturday, April 21, 1-2:30 p.m., outside 559 Carpenter Lane.
"Dividing Perennial Plants," a walk, talk and hands-on demo led by Eric Sternfels, Sunday, April 22, 10 a.m.-noon, Ned Wolf Park, corner of McCallum and Ellet streets.
Visit the Online Event Calendar, www.weaversway.coop/event for more info and to RSVP.
Winter held out as long as it could, but spring is finally here — no fooling! Join us in the neighborhood on Earth Day to welcome it!