Neighborhood Nutrition Team: Navigating Healthy Holiday Eating
by
Nicole Schillinger Vogler, Weavers Way Neighborhood Nutrition Team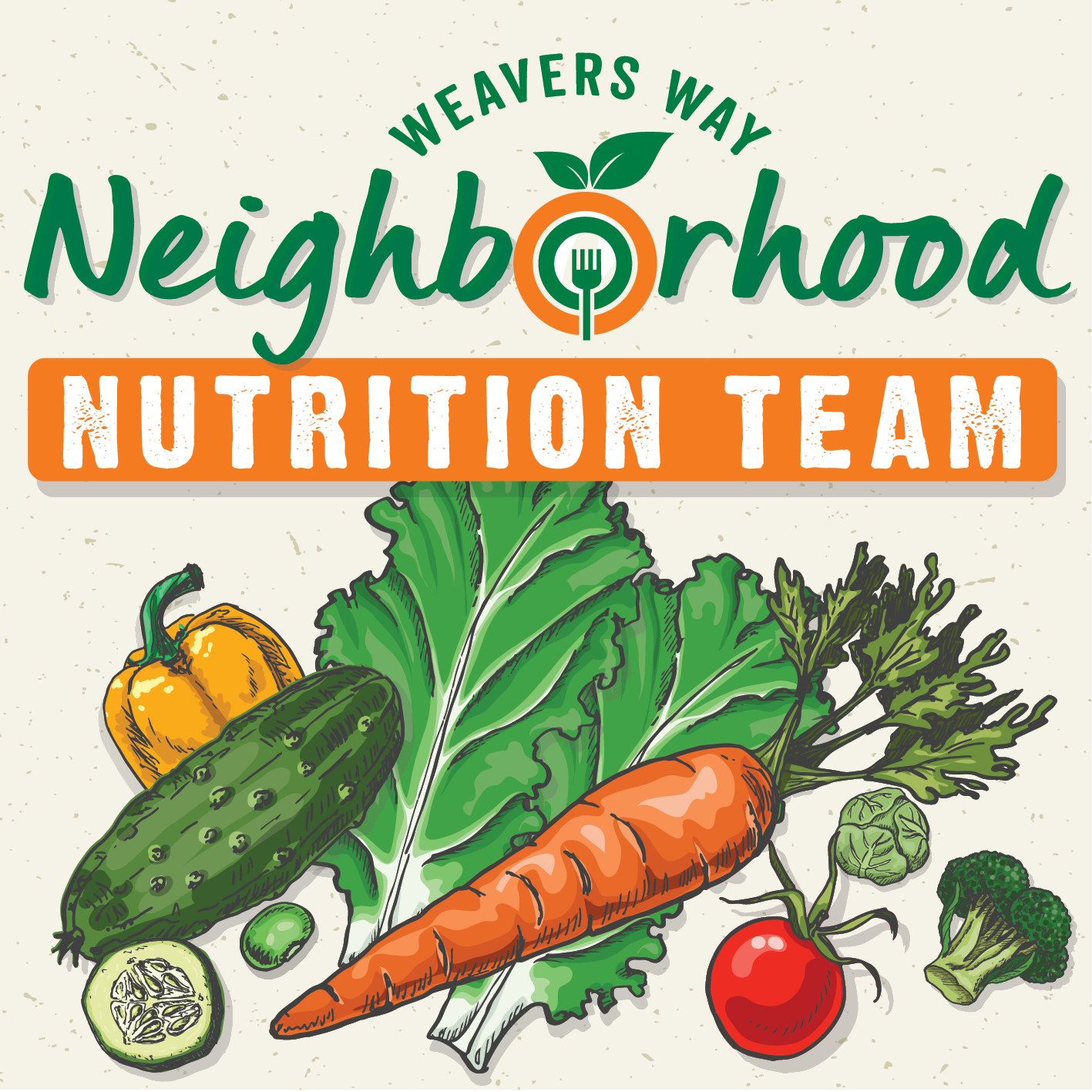 WHAT THE TEAM HAS IN STORE
Holiday season has arrived and the Neighborhood Nutrition Team is here to help you navigate the season so you can make healthy choices and still enjoy yourself! Join Neighborhood Nutrition Team member Dorothy Bauer for a deliciously festive workshop on healthy desserts that you'll want to make for guests. As always, the team will be on hand to answer any nutrition or health concerns in all three stores.
NEIGHBORHOOD NUTRITION TEAM OPEN HOURS AT WEAVERS WAY LOCATIONS:
Tuesday, Dec. 3, 4-6 p.m. - Ambler
Tuesday, Dec. 10, 4-6 p.m. - Mt. Airy
Tuesday, Dec. 17, 4-6 p.m. - Chestnut Hill
WORKSHOPS
Visit www.weaversway.coop/events.
Well, it's that time of year. Halloween candy has already started contributing to the weight gain of the winter season. Over the next two months, you'll be bombarded with parties, high-calorie foods, and alcohol. These are just some of the factors that can lead any of us to put on five pounds or more during this season.
Holiday weight gain is one reason your weight creeps up year after year. The best advice is to change your mindset. Don't expect to lose weight — instead, focus on not gaining weight. For success, keep a regular exercise pattern and healthy diet during this time.
Here are a few tips for staying on track and maintaining, not gaining, while still enjoying some of your favorite dishes:
Never go to a party hungry. The temptation of the variety of foods can derail people with food sensitivities, blood sugar issues, and heart health issues. The morning before a party, fill up with a good, high-protein breakfast, and then have a nice soup or salad for lunch. The fiber and protein will help keep you full, and you won't overindulge.
Survey the entire table before you take any food. Decide which foods are worth eating and which you can ignore, and then stick with that decision. Why waste calories on foods that don't bring you pleasure?
Eat your calories, vs. drinking them. Stick with light beer, wine, and champagne instead of punches, eggnog, and mixed drinks, which can have up to 500 calories per cup.
Drink water between every alcoholic drink. This will keep you hydrated, and you'll drink fewer calories in the end.
Watch your portion sizes. Don't cover your plate completely with food, and don't feel like you have to clean the plate, either.
The more veggies, the better — that is, if they're not smothered in butter, cream, and cheese.
What if you're the cook or need to bring a dish with you? No sweat. Here are some great ways to alter a recipe to make it healthier — and most partygoers won't even know you made a change! If the recipe calls for:
Milk — replace with a dairy-free milk so those with lactose intolerance can still enjoy your dish.
Butter/oil — replace with applesauce or mashed banana in baked goods.
Eggs — replace with flax eggs. Combine 1 tbsp. ground flax seeds with 3 tbsp. water, then let sit for 5 minutes. This equals one whole egg in a recipe.
Sour cream — replace with Greek (thicker texture) or plain yogurt.
Sugar — replace with stevia. One cup of sugar should be swapped for 2 tbsp. powdered stevia or 1 tsp. liquid stevia.
Rethink and revamp your menu items. For example, make apple crisp instead of apple pie. Top it with tons of spices, sunflower seeds, and gluten-free oats for a crunchy, fiber-rich dessert. Make mashed cauliflower instead mashed potatoes — less carbs and calories. Roast sweet potatoes with coconut oil, stevia, and cinnamon instead of loading with butter and brown sugar. There are so many ways you can make this holiday time healthier for you and your family and friends!
Happy holidays from Nicole Schillinger Vogler RD, LDN, Personal Trainer.