Quilt Raffle By Former Teacher to Benefit Student's NGO in Antigua
by
Betsy Teutsch, for the Shuttle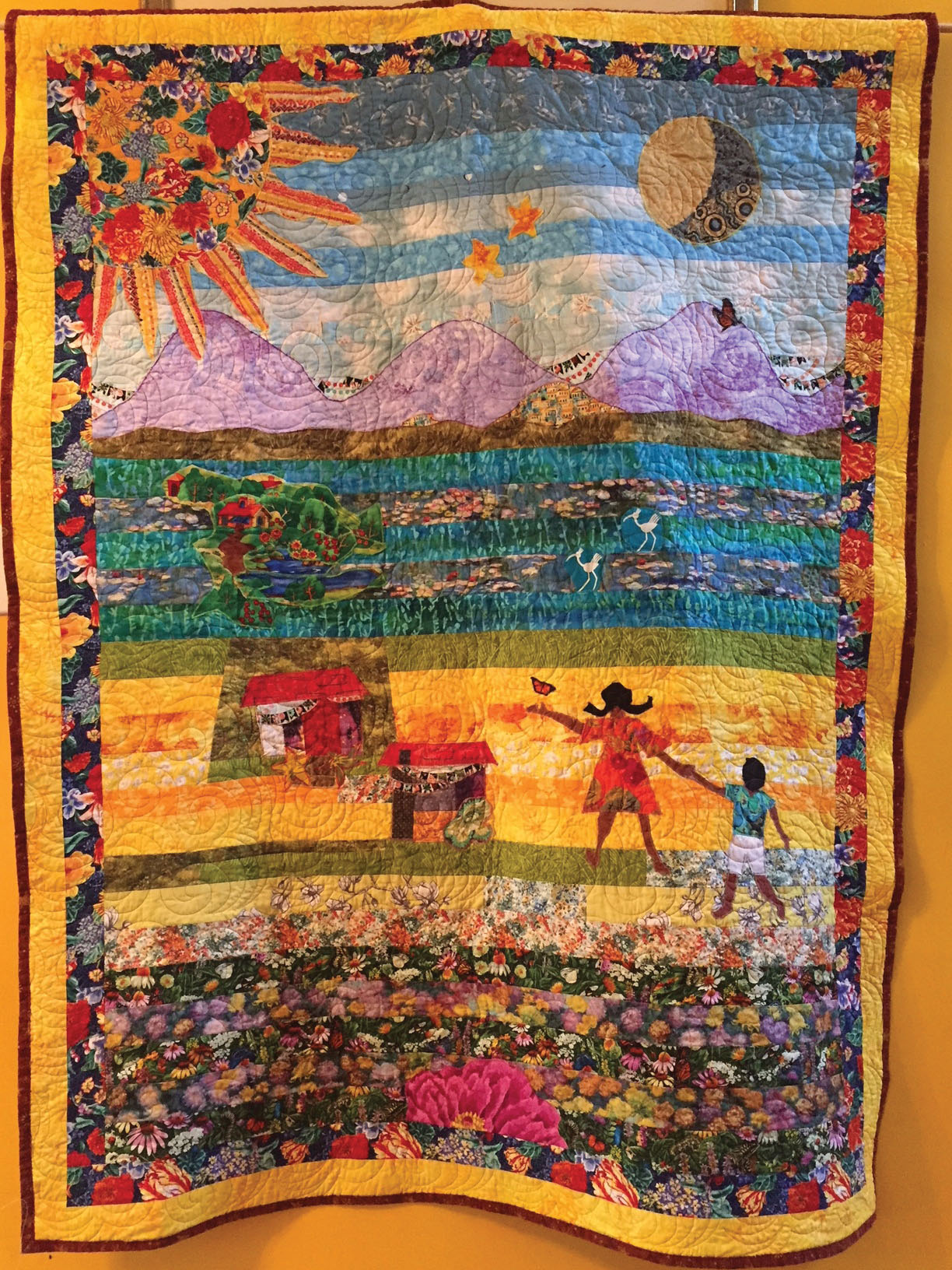 This one-of-a-kind pictorial art quilt was inspired by the work of Sueños and pays homage to themes and techniques of Central American folk art. Colorful prints are pieced and appliqued to create scenes of everyday life, similar to the traditional arpilleras of the region.
Each appliqued feature symbolizes some aspect of the Sueños story. The sky contains both the Sun and Moon because "sueños" means "dreams," not just the dreams of the night and the imagination but daytime, real-world dreams, goals, and aspirations. The birds and butterflies represent the many species that inhabit and migrate freely between Central and North America.
Contents and care: 45" x 60", 100% cotton top and backing, machine pieced and quilted with an all-natural cotton and bamboo batting. Machine wash and dry. 
Susan Saxe, Quilter
Teachers strive to inspire their students and they delight in staying in touch with them once they leave their classrooms. Extra points are given if a student goes on to do something impactful, and a teacher can revel in that success. Amy J. Cohen, a social studies teacher at Julia R. Masterman School in Spring Garden, is that teacher. And Oak Lane native Katie Korsyn, now 29 and the director of Sueños, a small nongovernmental organization she started in Antigua, Guatemala, is that student.
But Cohen, now retired from teaching, does more than revel. She has not only mentored Katie, a Masterman alum, but also started the group Friends of Sueños, which directly supports Korsyn's burgeoning NGO in its mission to educate and uplift street children and their families by giving them supervised education and extra-curricular opportunities.
To support the work of Sueños (which means "dreams" in Spanish), Cohen's neighbor Susan Saxe has stitched a magnificent quilt which will be raffled off next month. You can see the quilt and talk with Cohen about the project at High Point Café, 602 Carpenter Lane, Saturday, Dec. 21. from 9 a.m.-2 p.m. 
Tickets are $25 each and can be purchased on the Sueños website (suenosgt.org) prior to Dec. 21. Click on Donate and choose "quilt raffle" from the drop-down menu.