by
Josh Bloom, Vice President, Weavers Way Board of Directors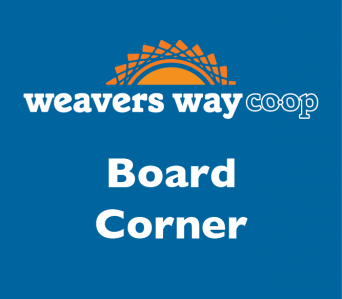 Lessons from the Weavers Way Board retreat
In most years, the Weavers Way Board uses its annual daylong retreat for strategic planning. Important, but yawn! Flip-charts, sticky dots, difficult conversations!
This year, with our largest strategic project, expansion to Ambler, under way, we used the retreat as an opportunity to educate ourselves on topics central to leadership in a changing marketplace. The Board was joined by members of the Co-op's management team and spent a half-day on each of two topics: trends in the natural-foods industry, and financial training and internal controls. 
As a benefit of belonging to the industry group National Cooperative Grocers (and at no expense to Weavers Way), we hosted NCG's Dave Olson, who came from St. Paul, MN, to lead the first session and to tell us how trends in natural foods are affecting co-ops, and how co-ops are adapting. Here are some highlights:
Buying natural and organic food was an alternative movement back in the 1970s and '80s, and co-ops owned the market segment. In the 1990s, buying healthy foods became a "lifestyle," and Whole Foods mass-marketed it. Today, buying natural and organic products has become mainstream. Virtually everyone wants healthy food options, and they want them to be convenient and affordable.
Sales of natural and organic food are still growing rapidly. The sector is one of the few bright spots in the retail food industry, with 15 percent annual growth, compared to 3 percent growth in traditional groceries. That growth is projected to continue. Natural and organic food accounts for $100 billion in retail sales per year in the United States, or about 15 percent of total retail food sales. (Note: The 15 percent growth rate and 15 percent of retail sales is just a coincidence.) 
Our competitors are growing, and they continue to build market share. As a fringe movement, co-ops had the natural-foods business mostly to ourselves. Not anymore. Kroger and its family of businesses (the largest supermarket chain) sell $1.2 billion of Kroger private-label organic products annually. That's nearly equal to the combined sales for all co-ops in the United States. Other conventional, large-format stores are competing for market share as well — and they are quickly gaining proficiency in selling these products to consumers.
The number of natural-foods retailers is expanding rapidly. Double-digit growth in an otherwise bleak retail sector has caught the attention of private equity and Wall Street. Whole Foods used to be our only national competitor. But today, their sales are declining 2 percent per year as they face pricing pressures and competition from Trader Joe's, Fresh Market, Mom's Organics, Natural Grocer and others.
Even a co-op shopper cross-shops. On average, a co-op shopper goes to 3.5 different places to buy groceries. We are competing for all those purchase decisions when that shopper is in our stores.
Weavers Way sales continue to grow — but we are the exception among co-ops. Many co-ops in our peer group are experiencing flat or negative sales growth. Across co-ops, this is even happening in produce and bulk departments which historically were competitive differentiators. Simultaneously, co-ops experience upward pressure on wages and benefits. These two opposing pressures are forcing co-ops to become leaner and more efficient to survive — and they are also impinging on the cool, experimental or community-betterment projects that co-ops have often prized.
At the same time, the grocery business has become increasingly complex. This is the result of a combination of factors, including technology demands (for example, putting chip-card compliant readers at checkout, or online ordering and delivery), food-safety regulations and health-care requirements. Some of these factors have led to a "talent gap" where co-ops need to attract higher skill levels to certain positions, but salary demands exceed typical co-op pay scales.
Core shoppers, mid-level shoppers and peripheral shoppers — they are all important! Across all co-ops, core shoppers account for 15 percent of adults in the stores and 25 percent of sales. (Core shoppers are also the ones likely to fill out surveys, voice their concerns, and come to meetings.) "Peripheral shoppers" make up 25 percent of customers, but only 10 percent of spending. (They only go to a co-op when they need a couple of items.) "Mid-level shoppers" are the silent majority: They account for 60 percent of adults in the stores and 65 percent of sales. Mid-level shoppers are not particularly loyal, or ideological: They want strawberries out of season and they want them at an accessible price, and they may not care if the strawberries are organic. The mid-level shopper is constantly balancing decisions between value (e.g., price) and values (e.g., organic) — and the answer may be different on each shopping trip or for each item.
Co-op regulars are dismissive when they go into a place like the Fresh Market and see lots of candy in the bulk department. The co-op customer says, "But they don't have organic quinoa or spelt!" But bulk departments are profitable because customers buy the candy that we dismiss as "not real food" — while many co-op bulk departments are losing money. So, for the sake of shoppers' preferences —and for the health of the business — co-ops need to be flexible in their product mix and flexible on values.
We — Weavers Way, and food co-ops in general — have been operating in a new environment for a long time. But NCG is seeing evidence that co-ops have not adapted quickly enough to competition. This brings up some basic questions, which Dave posed:
Are we a business or an association?
Are we a specialty store or a full-service grocery store?
Are we here to serve the community or our members?
Are we independent and autonomous or part of a larger movement?
The answer, to all of these, is yes.
In addressing the Weavers Way Board and management, Dave quoted former First Lady Rosalyn Carter: "A leader takes people where they want to go. A great leader takes people where they don't necessarily want to go, but ought to be."
Interested in learning more? Here are two videos where Dave discusses the changing natural-food business:
library.cdsconsulting.coop/understanding-the-changing-landscape