by
Maura McCarthy, Executive Director, Friends of the Wissahickon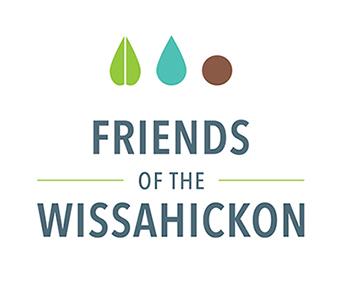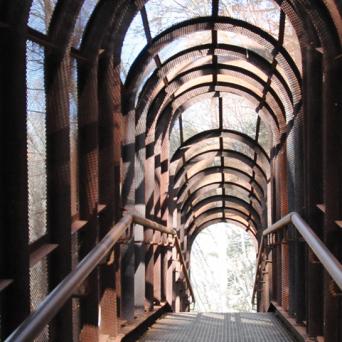 Visiting 'Fingerspan'
Park on Allens Lane and walk down Livezey Lane to a point near the creek where the dam and the Livezey House are visible. Turn left and follow the hiking trail about 15 minutes to a small steel footbridge and climb the stone steps to "Fingerspan." Walk through and enjoy the view!
Visit the bridge on a kid-friendly hike with Trail Ambassador Marv Schwartz June 24, 10 a.m.-noon. Meet at Valley Green Inn. Register at fow.org/events.
One of the joys of visiting Wissahickon Valley Park is being able to experience the blending of the natural environment with some 25 landmarks and structures, many of which have historic significance. One feature that captures the essence of both these worlds is the "Fingerspan" bridge, marking its 30th anniversary. Whether you've never seen it or it's been a while, you owe it to yourself to make a special trip to this remarkable structure. 
In 1987, the Form and Function program of the Fairmount Park Art Association (now the Association for Public Art) needed to replace a deteriorating stone staircase that led to a cliff just south of the Livezey Dam. Years before, the Park had retrofitted and installed the staircase — taken from an old ship! 
To design a new bridge, the Art Association commissioned internationally renowned artist Jody Pinto. Pinto, who often uses imagery from the human body in her works, wanted to create a functional sculpture linking humans and nature in such a way that hikers passing through it would feel the connection. "Fingerspan," her first permanent outdoor installation in the United States, resembles a human finger, complete with a "nail" at one end, "pointing" across the gorge. 
The artwork was fabricated in sections and brought to the site by helicopter. Standing 9 feet high, 4 feet, 10 inches wide, and 59 feet long, the entire piece weighs 18,000 pounds. Made of weathering steel, it has been allowed to develop a protective coating of rust in its years of exposure to the elements. 
Additional funding for the project came from a National Endowment for the Arts National Art in Public Places grant. "Fingerspan" was ultimately donated to the City of Philadelphia. Three decades of visitors have enjoyed this special gift and it'll continue to amaze for generations to come.