PAR-Recyle Works: Breaking Down Old Computers & Difficult Barriers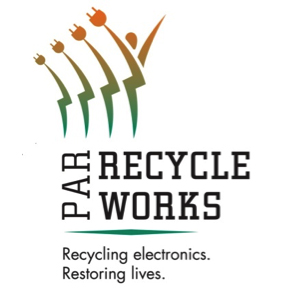 PAR-Recycle Works provides transitional employment to people returning to the community from prison. Among the items they recycle: 
Computers, keyboards, monitors
Printers, scanners, fax machines
Cell phones, telephone systems
Electronic motors, integrated circuits
For info, visit par-recycleworks.org or call 267-335-5455.
by Ted Barbato, for the Shuttle
The life of a personal computer is a decidedly short one. But even obsolete computers are making a huge difference in the lives of Philadelphians, thanks to a new recycling center in East Mt. Airy.
PAR-Recycle Works at 342 E. Walnut Lane was founded last year as an offshoot of People Advancing Reintegration, a nonprofit founded by former inmates at Graterford. PAR provides peer-to-peer counseling and assistance to Philadelphians recently released from prison. The peer leaders teach basic job-hunting skills, such as resume-writing, handling an interview and keeping a job. Support groups offer the former inmates opportunities to talk about their incarceration.
Recycle Works was a natural result. Opened in February 2016 after more than three years of planning, the center is designed to provide precisely the type of entry-level paying jobs that many of those just released struggle to find. "Members of the [PAR] board said, 'Let's find a viable venture that we can start for the gentlemen who are coming out.' " said operations manager Maurice Q. Jones.
The concept is simple: Formerly incarcerated men and women are given paying jobs, most part-time, disassembling donated electronics, primarily old computers. The parts and scrap metal, mainly aluminum, are then recycled, with the proceeds going toward salaries. The jobs are considered transitional — stepping stones toward full-time employment.
"Those who are recently released have a better chance at not recidivating when they are meeting employers within the first three months," said Jones, who himself came to PAR-Recycle Works after six years of incarceration. "So that's the demographic that we focus on. We take some referrals, we have walk-ins and we work with the federal re-entry board."
PAR board members modeled Recyle Works on a similar program, RecycleForce, in Indianapolis, and several board members traveled to Indiana to study that operation.
With the carcasses of desktop computers dotting the landscape, the benefits to the environment of such an effort are obvious. The benefits to those who are hired, though, are many, if more subtle.
For one, the jobs at Recycle Works provide much-needed structure after release from prison. Jones points with pride to the warehouse foreman, Gerald Williams. "The lack of structure is what sent him back and forth to jail, through his own actions. So he welcomes the structure that we are setting up for him. 
"And of course, [there is] a paycheck every week. From never having a paycheck to being able to say 'I have money in the bank every Friday, guaranteed,' it's a different feeling for him."
And as they break down the old computers, Recyle Works employees are also breaking down a huge barrier to future employment — computer literacy. "Some of these ladies and gentlemen who are coming home, they haven't seen a computer, and what they know of a computer is what they've seen on TV," Jones said. "So we're trying to bridge that gap in order to make them further employable. Because in every job, you need to have some type of computer literacy."
PAR-Recyle Works is still a relatively small operation, having offered only about a dozen jobs since it opened. But small steps are needed to solve a huge problem: Philadelphia has the highest incarceration rate in Pennsylvania, and across the commonwealth, nearly two-thirds of those released from prison are rearrested.
"The participants in our program are still working, and they haven't gone back to jail," said Jones, who is now also a student at Temple University. "And that's our key: to keep men and women working, and to have sustainable income in order to be able to put their lives back together."
The Weavers Way Environment Committee works with PAR-Recycle Works in its twice-a-year electronics recycling and "Weird Waste Day" collections. This fall's drive, in conjunction with GrInCH (Green in Chestnut Hill) is Saturday, Sept. 23, at Norwood-Fontbonne Academy in Chestnut Hill. 
PAR-Recycle Works also accepts donations of old electronics. For more information, call 267-335-5455 or visit the website, par-recycleworks.org.
Ted Barbato is a Weavers Way working member.