by
Hannah Holby, Weavers Way Farms Field Assistant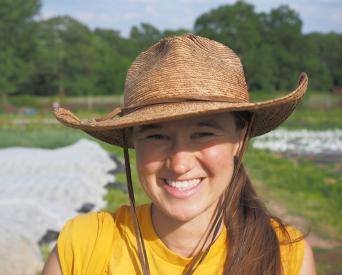 Since we live in a base-10 world, we tend to mark accomplishments on 10-year anniversaries. So before 2018 ran out, I was determined to make sure we celebrated the fact that it's Nina Berryman's 10th year at Weavers Way Farms.
But . . . Nina actually has been here since the 2007 season, when she first signed on as an apprentice. Did we let a significant anniversary go un-noted? I'm saying no, because she officially joined the farm staff in November 2008.
So happy 10th anniversary, Nina!
From what I've learned, Nina threw herself into the work from the very beginning. She moved from the apprenticeship to breaking ground at the then-new Henry Got Crops Farm at Saul High School in 2009. She worked closely with Saul faculty, especially Jess MacAtamney, to create educational programs focusing on growing crops, and to secure School District money to bring farm-fresh food to the Saul cafeteria. Every year, the farm has grown in production and Nina has moved from field manager to the overall farm manager — overseeing the operations at both Saul and the Weavers Way farm at Awbury Arboretum and managing the 200-plus-member Henry Got Crops Community Supported Agriculture program.
Farming is physically demanding. Running a farm is also mentally demanding. At Weavers Way Farms, we're constantly juggling partnerships with multiple organizations, working to meet the expectations of our CSA members and to fill orders for the stores, all the while staying current with best practices in farming. Nina approaches these challenges with humility, integrity and seemingly endless energy. I am continuously impressed by her dedication to the farm and her never-ending curiosity about how to farm better.
We haven't had the easiest growing season this year — there has been a lot of rain, deer, mice and harlequin beetles, and did I mention rain? — but through it all, Nina has remained positive and kept our team "growing."
Nina isn't loud about how hard she works or how hard the work can be. So I'm taking this opportunity to be loud for her. Happy 10 — or 11 — years, Nina. You deserve to be celebrated!