by
Kristina Garcia Wade, for the Shuttle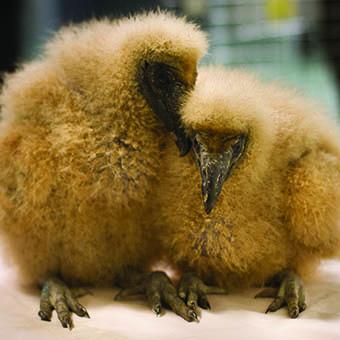 The Wildlife Clinic at the Schuylkill Center reopened Nov. 10 with federal permits and temporary state permits for rehabilitating mammals, songbirds, and raptors. We invite you to celebrate with us, to meet the new director, Rebecca Michelin, and to be a part of the clinic's new vision at our grand opening on Groundhog Day, Feb. 2. We'll be hosting Winterfest for Wildlife, an event including wildlife crafts, animal face painting, nature walks, a bake sale benefiting the clinic, and a talk on urban wildlife presented by Rebecca. There will be a limited number of timed tickets for behind-the-scenes tours of the clinic and a list of suggested in-kind donations to bring for the wildlife. The event is free; check out www.schuylkillcenter.org for details.
Soon after the clinic opened its doors, the first patients arrived: a juvenile southern flying squirrel, two grey squirrels, a pigeon, and a groundhog. The flying squirrel was found without a family group and was too young to be released this late in the season, so she is over-wintering at the clinic. "When a member of the public cares about an ill, injured, or orphaned wild animal enough to rescue them, it is our responsibility to provide the highest possible quality of care," said Rebecca. "We are dedicated to meeting and exceeding national standards by providing prompt medical attention, appropriate housing and diets, and a stress-free environment for recovery."
Over the last year, the Center has remained committed to wildlife rehabilitation. We focused our energy on reopening the clinic as soon as possible while developing a master plan for the facility, one aimed at strengthening our role as a regional leader in wildlife rehabilitation.
Rebecca and the newly hired Assistant Director of Wildlife Rehabilitation, Chris Strub, along with 25 volunteers and the entire Schuylkill Center staff, have been hard at work cleaning, organizing, and reconfiguring the space. 
Our talented staff built live-edge shelving, countertops, and a window ledge from invasive trees felled on Center property. The exam and treatment area has been moved to a room double the size and staff created an intensive care unit and five rehab rooms, including a dedicated aquatic room with tubs and bathing areas for turtles and waterfowl. The clinic is also now set up to take debit and credit cards and boasts a new digital patient recordkeeping system, as well as a hotline application for keeping track of the thousands of phone calls received each year.  
Chris said he and Rebecca are working on creating an innovative training program that will include online courses for progressive skill development. "We want to be one of the go-to facilities where people learn, and to train the future rehabbers in the region — because there will never be enough wildlife rehabbers," he said. 
If you're interested in volunteering, contact Claire Morgan at 215-482-7300 or claire@schuylkillcenter.org. We're also hosting volunteer orientations — check our website for details.