by
Jolea Augustine, for the Shuttle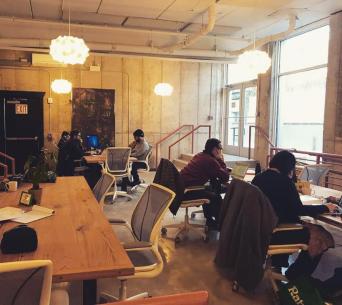 When Mt. Airy Nexus coworking space opened last September, there was no fanfare, no grand opening banner, no party — only a sandwich board in the courtyard, a Facebook invite and a few notices to surrounding businesses. The understated debut was done on purpose, according to Manager John Autin.
"We opened while we were still doing some finishing touches on the space," Autin said. "We were anxious to get our community started, but it didn't feel quite right to make a big announcement."
Since then, the space, located in the basement of 520 Carpenter Lane, has established itself as a thriving coworking hub. Now they're looking to build on their success by offering one month of free membership to Co-op members who purchase a three-month commitment to any plan. 
"We are so excited to offer this deal to new members who are also members of Weavers Way," Autin said. "We so much value our partnership with such a closely mission-aligned organization."
Nexus has been offering its stylish and eco-friendly space to local nonprofits since its inception. The Co-op has been a frequent user for assorted meetings and new member orientations.
"Having Nexus here helps meet a critical need for community gathering space," said Weavers Way General Manager Jon Roesser. "We're not sure how we made do in the past without it."
While it offers conference rooms and large spaces for meetings and events, by day Nexus is an active coworking space, with more than 50 members using the space at different levels. The cross-section of workers includes those from larger nonprofits such as the Sierra Club (who occupies one of the private offices) and HIAS, to larger businesses such as PayPal and Murray's Cheese, as well as individual nonprofits and startups. Efforts have been made to help inspire creativity and collaboration throughout the space, including rotating art installations and the use of upcycled functional items. 
Members have access to free High Point coffee, tea, high-speed internet, members-only events, printing, scanning, and faxing. In addition, there is a program in which members can earn credit hours toward the use of different-sized conference rooms. Soon, Nexus hopes to offer discounts at select Mt. Airy Village businesses.
"I enjoy Mt. Airy Nexus as a part of my community life and, on occasion, in my professional life," said West Mt. Airy Neighbors Executive Vice President Kathleen Woestehoff. "Working from home and being on conference calls all day can be an isolating experience. My visits to Mt. Airy Nexus boost my mood in the ways only community can: by reminding me of the fantastic environment in which we live, the kind people I get to call neighbors and the good work being done right here."
For further information about the deal for Co-op members, contact Autin at john@mtairynex.us or 267-223-5423.