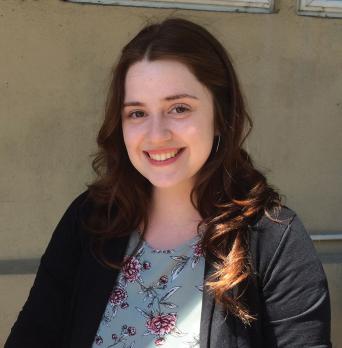 Job: POS (Point of Sale) clerk
Since When: September 2018
Age: 30
Where she's from/where she lives now: Avenel, NJ/Germantown, with her boyfriend, Dan Cohen, a chef at Jansen restaurant in Mt. Airy who was formerly the Prepared Foods manager in Mt. Airy. They're also parents to Bill Murray, Li's 10-year old orange tabby.
How she got to Weavers Way: She found out about an opening in the Chestnut Hill store and moved to Philly. She was hired to work in Grocery, but within a week was hired as the store's wellness buyer (this was pre-Next Door, when the wellness department was in the main store).
Other Weavers Way jobs: She's worked in wellness at Across the Way, as a cashier and manager on duty in Chestnut Hill, and at the spring-fall edition of the Mercantile in 2017.
Outside pursuits: She recently earned her midterm certification in an online health coach training program through the Institute for Integrative Nutrition. She also has an associate's in education from Middlesex County College in Edison, NJ.
Future plans: She'd like to have her own health coach practice.
Favorite Co-op products: She's a huge fan of the Ambler produce department ("They typically have what I'm looking for."), and BobbySue's Everything Goes Nuts seasoned mixed nuts.
Thoughts on her current job: "It's so different…I went from all these positions where I'm on my feet all the time, running around, and now I'm seeing the Co-op from this different angle, behind the scenes. I'm almost, like, orchestrating all of the madness."
Thoughts on the Co-op: "I've seen a lot of different sides of the Co-op, good and bad…I really thoroughly enjoy being here, and the connection you make with people that you interact with as customers and members, [and] people that you work with. It's a great place. I've met a lot of beautiful, wonderful people here who have inspired me."
—Karen Plourde