by
Elizabeth Starrantino, for the Shuttle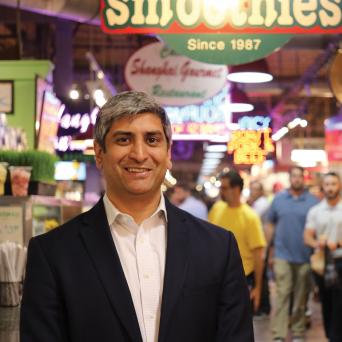 If you stopped into Jyoti Indian Bistro on Germantown Avenue in Mt. Airy this summer, you may have noticed a special Indian salad on the menu. And if you decided to add those greens to your meal, you might have noticed a sticker on the container indicating some of the produce inside came from Weavers Way Farms. That little sticker tells a big story of a decades-plus partnership, a microeconomic food chain and a commitment to giving back and building community through food.
Jyoti Indian Bistro owner Anuj Gupta's family's relationship with Weavers Way goes back years.
"I was probably a teenager at most when the Co-op started carrying my parents' [Jyoti brand] shelf-stable prepared Indian foods," Gupta recalled. "They were one of the first non–South Asian grocers in the region to do so. The connection with Weavers Way was really important to their growth as a business. I speak for my parents when I say how grateful we are that the Co-op continues to carry their products and to give them great shelf space."
When Gupta came up with the concept for a fast casual Indian restaurant under the Jyoti name, Mt. Airy made the most sense as a location.
"Weavers Way had been carrying the products for so long that there was such name and brand recognition in the area," Gupta said. "The restaurant has been up and running for six years now on Germantown Avenue, and its success has built upon the connection established with Weavers Way."
A couple years after the restaurant opened, it started offering the special salad during the summer. 
"When the idea for the salad came around, I was in conversation with Glenn Bergman, who was then the general manager of Weavers Way," Gupta said. "At the time, I was the executive director of Mt. Airy USA and Glenn and I had a very close working relationship." 
Through Glenn and a nearby Mt. Airy USA project, Gupta came to know Food Moxie and Weavers Way farms. And he started buying "kale and cucumbers and kohlrabi and anything else we could access through the farms" and mixing it with the organic kidney beans processed at the Jyoti plant in Sharon Hill. The co-branded salads were then sold in the restaurant.
Gupta saw the co-branding as a way to highlight an important local institution and to support the farm. It was also an opportunity to give customers something a little different. And it was delicious.
"To get kale and cucumbers from a mile away — it's like getting entirely different produce," Gupta said. "The kale grown on the farm is just exceptional."
"It's such a neat full circle," said Nina Berryman, Weavers Way farm manager. "Even though we don't buy the exact salad from Anuj that has the Weavers Way cucumbers or kale or kohlrabi, we do buy the Jyoti products at both the Weavers Way stores and the farm market. So we have this little microeconomic circle of really keeping our dollars local."
The Weavers Way partnership is far from the only way Gupta is building local community through food, however. He is currently the general manager of Reading Terminal Market and has launched a variety of projects, many supported by the Knight Foundation, to connect communities around the city. 
One such project, Breaking Bread, Breaking Barriers, has Reading Terminal working with the University of Pennsylvania, the City of Philadelphia Commission on Human Relations and the Hebrew Immigrant Aid Society of Pennsylvania to identify communities that didn't know each other or had some conflict. 
"In our first round of 'Breaking Bread, Breaking Barriers' programming, these communities came to the market and worked together to teach each other staples of their cuisine," Gupta explained. "They started to understand each other through cuisine, and then they sat down and ate together and a facilitator from the city helped with dialogue."
Then everyone came back for a second dinner intended to strengthen the bond formed during the first interaction.
"I think what we established was that in an age of tension and division, people can still find a sense of shared humanity," Gupta said. "They had more in common than they thought." 
After a successful first round of programming, Gupta, the market and their partners created a second round of Breaking Bread, Breaking Barriers programs in parks around the city. In June, he was named one of seven Public Spaces Fellows by the Knight Foundation. The fellowship comes with a $150,000 grant, and Gupta is still exploring ideas for the funding, including designing a Breaking Bread, Breaking Barriers program for children.