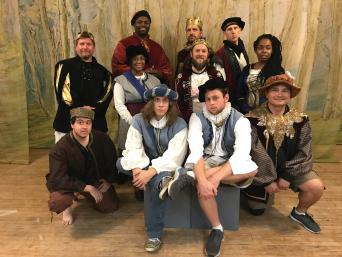 Old Academy Players will present its 522nd production, "Rosencrantz and Guildenstern Are Dead," an absurdist, existential tragicomedy by Sir Tom Stoppard, November 1, 2, 8, 9, 10, 15, 16, and 17, 2019 at the group's theater on Indian Queen Lane in East Falls.
The play, which debuted in 1967, won the 1968 Tony Award for Best Play. Acclaimed as a modern dramatic masterpiece, it is the inventive tale of Hamlet with two hapless minor characters, Rosencrantz and Guildenstern, suddenly finding themselves thrust to center stage. As the bewildered duo stumble their way in and out of the action of William Shakespeare's classic drama, they become increasingly out of their depth as their version of the iconic story unfolds.
Stoppard is one of the most internationally performed dramatists of his generation, and has written prolifically for TV, radio, film and stage. He co-wrote the screenplays for "Brazil," "The Russia House," and "Shakespeare in Love," and has received an Academy Award and four Tony Awards. His work covers the themes of human rights, censorship and political freedom.
The production is directed by Sarah Labov and features Brendan Sterling as Rosencrantz, Brian Jedinak as Guildenstern, Chuck Mueller as Player, Brittany Fauzner as Ophelia, Carl Heine as Claudius, Jamaal White as Polonius, Lauren McCardel as Gertrude, Nick Ware as Hamlet, and Norman Burnosky, Adam Landon, Robert Ruelan, Rafael Schneider and Ina Louise Thomas as Tragedians.
Show times are Fridays and Saturdays at 8 p.m. and Sundays at 2 p.m. Parking for all performances is free. Ticket price is $20 per adult, $10 per student with valid ID. Buy tickets online at www.OldAcademyPlayers.org. Group discounts are also available; call 215-843-1109 for more information and tickets.