Suggestion Box: Remembering and Honoring Dale Kinley
by
Norman Weiss, Weavers Way Purchasing Manager
Greetings. No disclaimers to start this month's column, as it is about remembering and honoring Mt. Airy Meat and Seafood Manager Dale Kinley, who passed on May 7. Memories are what we have left of Dale, augmented by pictures, her workspaces, her impact on Weavers Way, and our recent conversations about her.
Many longtime Co-op members remember Dale; many did work shifts with her, wrapping and packing meat and fish. In some ways, she was the founder of the Co-op's meat departments, although she didn't start out that way. 
I think I first met Dale in 1979, when she was dating a friend of mine who worked at Weavers Way. Shortly after that, I left the Co-op and Philly, returning in 1985. Dale had joined the staff and had become assistant store manager. 
Once I returned to the Co-op, Dale and I hit it off well, because we shared an interest in natural foods and the natural foods industry. She was also the first person I became friends with who had an interest in macrobiotics. 
Dale introduced me to products I had never paid much attention to — sea vegetables, ponzu, mirin, umeboshi plums and vinegar, brown rice syrup, yin, yang, and local foods. Macrobiotics included preferences for eating food grown in the region where you lived, and this was well before the local food movement took hold. She went so far as to live in a macrobiotic communal house for a while. 
Because a macrobiotic diet includes fresh seafood, Dale eventually became the Co-op's most knowledgeable main staffer about it, and her work marked the beginning of a legit meat and seafood department at Weavers Way. Some older members probably remember packing fish and chicken with her in the upstairs kitchen at 559 Carpenter, where fish was cut and placed into plastic bags, sealed with a twist tie, then weighed and tagged with a handwritten label. We sold it out of picnic coolers filled with ice. There was a fair amount of physical labor involved, including dragging the coolers outside to drain the melted ice. 
Crazy as the process was, not only did Dale make it work, it thrived and helped us grow. She had an eye and nose for quality and a sense of what our members wanted, and developed what turned out to be important long-term, trusted relationships with suppliers — so much so that we did not have to worry about "getting took" in what was then a bit of a cutthroat business at the wholesale level.
Somewhere around 1986, Dale gave up being assistant manager and devoted herself full time to establishing and managing the meat department that exists in Mt. Airy to this day. Along the way, she stayed interested in natural foods, and regularly found and suggested new products, which we all benefited from. 
The product that sticks most in my mind in this category was soy milk. Dale was the first staffer to bring it to our shelves, way before you could find it at stores outside of Chinatown. When I first saw it, I thought soy milk was from Pluto and would have limited appeal. But I had already learned to trust many of her food instincts, and sure enough soy milk became a staple for us (and for the natural foods industry) for decades. She went on to find other meat and non-meat department products and vendors, including pasta sauces from PTG, local vegan items from Moshe's, and of course, our main Thanksgiving turkey supplier, Esbenshade of Lancaster County.
As the years passed, Dale ended up working with hundreds, probably thousands of members, for a few hours each year. She established such a strong bond with members that when she had a bad hiking accident and broke both legs and an arm and bills started to outstrip her insurance coverage, they donated $10,000 to help her meet her expenses.
Longtime members might also remember a Weavers Way anniversary party at Allen's Lane Park (I forget what year) at which Dale and husband Lenny volunteered to grill for hours and ended up serving hundreds of people. Once again, their actions displayed Dale's stamina and commitment to our members.
As purchasing manager, I maintain a list of our buyers and their contact info so vendors know with whom to communicate. Somewhat incredibly, we've grown to the point that there are 33 current buyers on the list. 
I can't bring myself to take Dale's name off. And I don't think I ever will.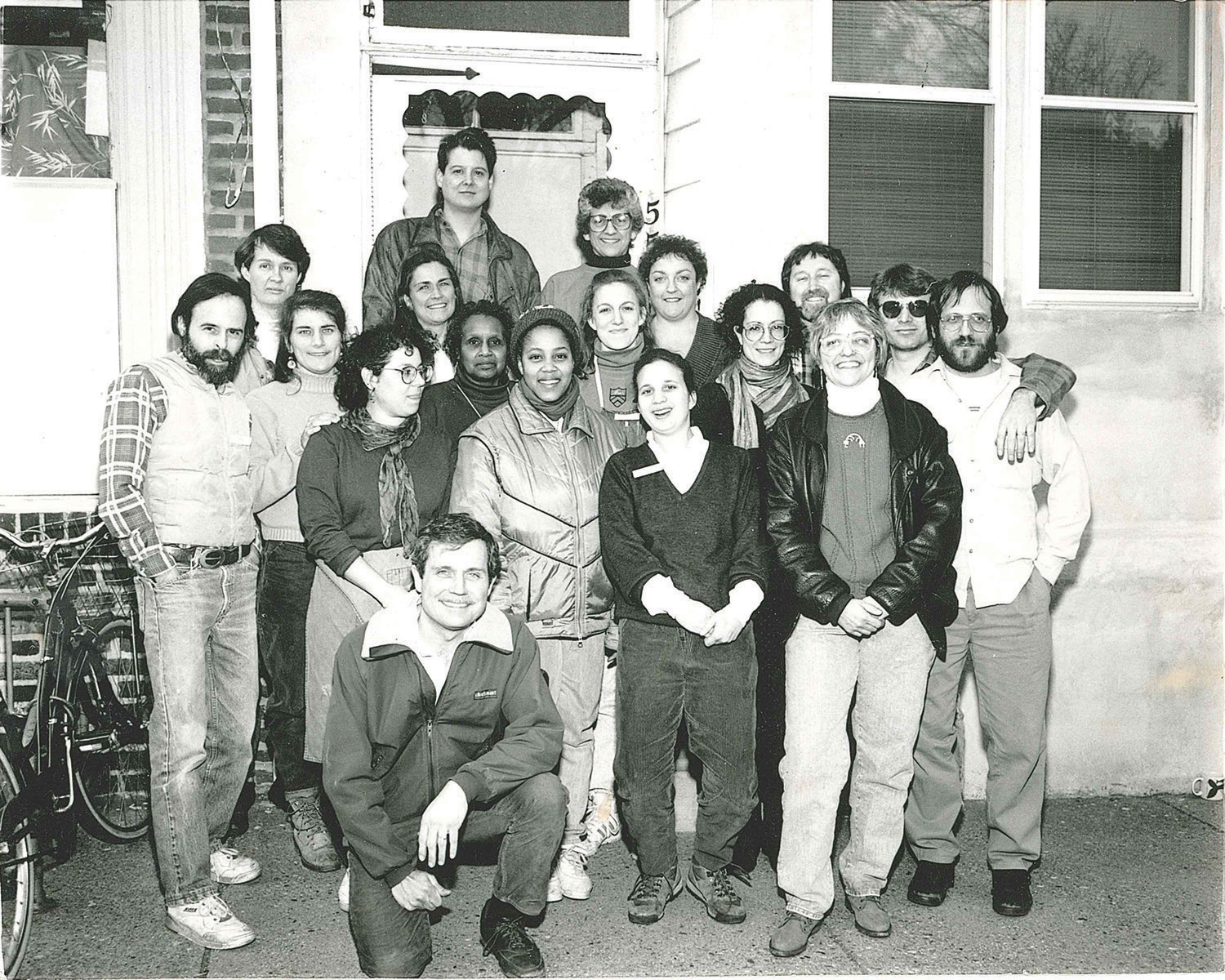 Bottom kneeling, Ed McGann (GM). Left to right: Steve Hebden, Marti Bowditch, Debra Hoffman, Alix Rabin, Dale Kinley, Jon McGoran, Fran Ryan, Stephanie Johnson, Chrissy Clawson, Kendra Schpok-Jones, Connie Iadicicco, Andi Sheaffer, Julia Bradley, Walter Bader, Eileen Schaller, Norman Koerner, Norman Weiss