by
Valerie Glauser, for the Shuttle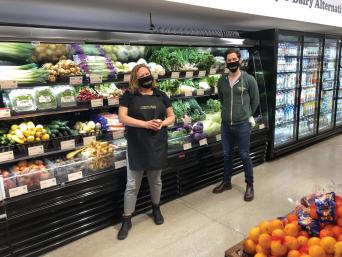 In 2008, David Woo, former Weavers Way board president and Co-op member, was invited by then-General Manager Glenn Bergman to a meeting with a woman who owned a failed bookstore in the Italian Market which she converted briefly into a food market. She was joined by 40-60 community members who had interest in opening a food co-op in South Philly. Their initial meeting only resulted in a food buying club; however, it left Woo with an email list of about 40 people who were interested in opening a neighborhood food co-op.
Two years later, after Woo was laid off from WHYY, he heard from lapsed Co-op member and former coworker, Alison Fritz. She wanted to replace her broken garlic press with one she liked at the Co-op, but thought she had to be a member to purchase it. She found out that the by-laws had changed so that all community members could shop.
During their reconnection, Woo convinced Fritz to revive the idea of a co-op in South Philly by resending emails to the people with previous interest. She did, and the group held its first organizational meeting that year. Fritz went on to serve as the first board president of SPFC.
Ten years and many obstacles later, SPFC opened on Dec. 23 as a 2,300 square-foot retail reality. It's membership includes 1,500 households and is growing daily.
Member-ownership involves a $300 investment which is paid either as up-front equity, or in installments. "We also have a Community Equity Fund that community members invest in to create a pool of money that is available to offset member-owner equity for those who are on a limited income," said Lori Burge, SPFC General Manager. "So folks who are on a limited income can join with just $5 starting out, and then can become a full member-owner with $25 and a scholarship of $275."
SPFC does not have a work requirement or a structured cooperator work program. However, Burge said that it depends heavily on the volunteer contributions for outreach and other outside activities. The co-op does not have a standing member discount; instead, it features "owner-appreciation days" with 10% off all members' groceries, and "owner-only specials." You do not need to be a member to shop.
SPFC currently has 13 staff members and doesn't have the capacity to prepare their own prepared foods. However, Burge said that the co-op will feature a "grab-and-go case from local vendors" once the correct refrigerator case is delivered. "There are always lots of glitches," she added.
Right now, SPFC's bulk bins stand empty. Burge said the co-op plans to pre-package the products that are stored in the scoop bins, but will allow shoppers to use the gravity bins, which require less human contact. Currently, SPFC allows a maximum of 12 shoppers in the store at a time as part of its pandemic safety standards.
Most of SPFC's local, seasonal produce is organic and comes from the Lancaster Farm Fresh Co-op, which is made up of 150 farms in the region and has a large Community Supported Agriculture network. Originally, SPFC intended to open last spring, but could not because of the pandemic. The leadership felt obligated to keep its promise to open by setting up a virtual store that included a "Basics Box" of bulk grains and other pantry staples, along with boxes of fresh, organic produce, which they arranged through LFFC.
SPFC uses laminated signs throughout the store to promote its locally-grown and produced products and services. The signs describe the evolution, location and ownership of each item and service. Many vendors, including Zsa's Ice Cream, Crust Vegan Bakery, Dodah's Kitchen and Bloc Delivery, are likely familiar to Weavers Way shoppers. Other vendors include Oasis Creamery organic cheeses of Ronks, Lancaster County; floral arrangements from Jig-Bee Flower Farm of North Philly, and soaps from Vellum Street Soap Company of Roxborough. Many are owned by women, LGBTQ persons and other people of color.
Burge said that Weavers Way General Manager Jon Roesser and Development Manager Kathleen Casey have been invaluable and generous resources for SPFC. "Whenever we need something, I call Jon, and he'll give me the information, or route me to the right person," she said. Woo noted that likely every staff member has provided help to SPFC at some point.
When the pandemic delayed SPFC's opening, the co-op had to raise additional funds, and Weavers Way became the distributor of as many as 48 Basics Boxes at a time. "Without that, it would have been difficult for us to provide that service," Burge said.
Burge has gotten donations, investment and knowledge support from all the regional co-ops, including Mariposa, Swarthmore, and Kensington. She also has made use of the ample resources of the Philadelphia Area Cooperative Alliance.
In turn, she has already started to give back to the growing community of local and regional food co-ops. She just completed the incorporation paperwork for the new Kennett Square Co-op, which does not yet have a location or opening date.
Burge has been involved in the co-op business sector for 20 years. She started as a volunteer in the produce department of People's Food Co-op in Portland, OR and was promoted up the line. In 2010, she moved to New Orleans, where she managed the New Orleans Food Co-op for six years. She moved here in 2010 to be closer to family "and because Philly is such an amazing city."
SPFC is located at 2031 S. Juniper St. and is open every day from 9 a.m. to 9 p.m. A full list of its local products, services and other information can be found at www.southphillyfood.coop.