by
Crystal Pang, Weavers Way Marketing Director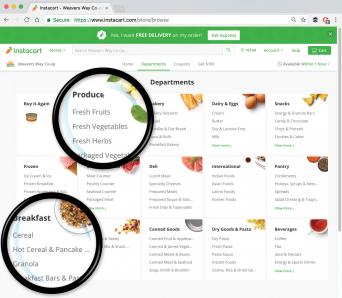 Wish you could stop at the Co-op but strapped for time? Juggling too many things to add a trip to the grocery store to your day? Here's some news: Weavers Way is now on Instacart.
Instacart is an online shopping and delivery service. Our Instacart "store" offers a way to shop online for the Weavers Way products you know and love, and get them delivered in as little as an hour.
We're not the first grocery store to introduce online shopping and delivery — if anything, we're late to the game. It's a growth area in the beleaguered grocery industry; joining in should help the Co-op compete in a tough marketplace.
But that's not the only reason we're doing it. We're also committed to making it as easy as possible for our members to shop for high-quality, sustainable and healthful products.
We also hope being on Instacart will draw in shoppers in our extended area who never considered Weavers Way before. As an alternative to conventional stores or ordering online from the big guys like Fresh Direct or Amazon Fresh, we think we're a no-brainer.
And our Instacart delivery area is huge — it runs from Philadelphia to Ambler and beyond! Included zip codes are: 19118, 19119, 19144, 19138,19127, 19128, 19129, 19131, 19126, 19141, 19150, 19001, 19012, 19025, 19027, 19031, 19034, 19038, 19046, 19075, 19090, 19095, 19002, 19428, 19444, 19462. 19004, 19035, 19066, 19072.
Instacart provides online shopping and same-day delivery for most of what we carry. Simply make selections from the online Weavers Way Instacart "store," which includes more than 10,000 items and is updated daily.
There is no surcharge for Instacart purchases — prices are the same as in the store. However, we cannot provide Weavers Way discounts — member, working, senior, Food for All — on Instacart.
There's a $5.99 fee for delivery within two hours and $7.99 for one-hour delivery when you spend $35 or more. You can schedule delivery for a specific time later in the day or week, too. There's also the option to join Instacart Express and get unlimited deliveries for a year for $149.
Here's how it works:
You visit instacart.com/weaversway or download the iPhone, iPad or Android mobile app. Create an account if you don't already have one, and make sure you enter your member number so your Instacart purchases count toward your patronage for future rebates. Put items in your digital cart — you can even add notes about ripeness, or alternate products that you prefer. Select a delivery time and check out with a credit or debit card.
Instacart deploys a personal shopper who will drive to the Chestnut Hill store and do your shopping. If an item you ordered is out of stock, the shopper will choose an appropriate replacement and contact you via phone call or text to verify it's what you want.
The shopper delivers your groceries to your front door — including carrying your bags up the stairs.
The first delivery is free for new Instacart customers, plus there's a special Weavers Way introductory promo code for $15 off your first order of $35 or more (good through April 24).
Naturally, we love to see you in person. But even when you shop online, you're still supporting Weavers Way's local suppliers and local jobs, and our ethical and sustainable product philosophy.
Give Instacart a try and tell us what you think.