by
Mary Sweeten, Editor, Weavers Way Shuttle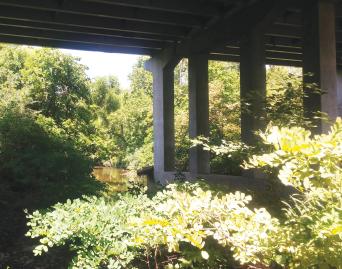 If you haven't been to Ambler, where our new store is located, there are plenty of ways to get there. Let me count them:
You could take the highway. (I would say "drive," but I wouldn't want to exclude all you bike commuters.) There are a number of routes, some of them scenic, and it's only about 7 miles from Chestnut Hill, 10 from Mt. Airy. (Give or take.) 
You could take the train, which, while a little inefficient, is a weirdly appropriate way to approach a town named in honor of the heroine of a famous 19th-century train wreck.
You could take the Route 94 bus, which goes up Bethlehem Pike from the top of Chestnut Hill right to the doorstep of 217 E. Butler Ave. on its way to the Montgomery Mall.
Or you could take a nice walk through the woods. 
Yes, you can actually walk, mostly on trails, from Weavers Way to Weavers Way. I've done it.
The Green Ribbon Trail, assembled and maintained by the Wissahickon Valley Watershed Association, starts at Skippack Pike and runs more or less alongside Wissahickon Creek all the way to North Wales. At Fort Washington State Park, it becomes the Wissahickon Trail, which runs all the way to Chestnut Hill College and then on to Forbidden Drive via Northwestern Avenue.
Of course, there's a catch — a mile-long one on Stenton Avenue. Between Northwestern Avenue and W. Valley Green Road in Whitemarsh Township, there's no sidewalk. Hardly any shoulder. No trespassing on Erdenheim Farm. And where Stenton crosses the Wissahickon, no clearance at all — just two lanes of car traffic on a stone-arch bridge.
Ah, but a solution is in the works. Plans to fill in the missing link are nearly complete, says Henry Stroud, Trail Program Manager for the Montgomery County Planning Commission. 
The eight-tenths-of-a-mile all-purpose "circuit trail" segment (bikes welcome, wheelchairs accommodated) will parallel Stenton on the outbound (east) side of the road, and includes a new trail-only bridge over the creek. Once $2.3 million in funding comes together — "This kind of trail is expensive," Henry observed — the goal is to start  construction in 2018, with completion in 12 months.
In the meantime, if you'd like to walk in my footsteps without holding up traffic or taking your life in your hands, start at the trailhead at Stenton and W. Valley Green Road. (There's also a parking lot a quarter-mile down Valley Green.)
Fort Washington State Park is for joggers and bikers. And dogs and picnickers and the occasional angler. This section of the route is paved or graded gravel (and hard on the feet, if you ask me). I would be remiss if I didn't mention the Fort Washington Hawk Watch, though it's not strictly on the way.
Once you cross Skippack Pike, the trail narrows to a well-blazed dirt track. You're in the woods now, but this isn't exactly a pre-Raphaelite painting. You can hear the Turnpike and, closer to Ambler, glimpse trains going by. There's some pretty fancy graffiti under the Joshua Road/Lafayette Avenue bridge and, as you walk though Germantown Academy, maybe you'll see that three-legged deer. Hey — just like a walk on Forbidden Drive!
Deer browse and excess runoff keep the underbrush spartan even in this more sylvan, no-bikes-please stretch, says Gina Craigo, WVWA community outreach manager. Creek crossings are accomplished by engineered stepping stones and rustic bridges, including a couple on the side trail to WVWA headquarters, housed in a fabulous Horace Trumbauer-designed barn. (It's worth the detour.)
In about 4.5 miles from Stenton Avenue, the trail pops out on Butler Pike. Take to the sidewalk, heading east; cross the railroad tracks, go past the Ambler Theater and there you are. Weavers Way Ambler! Sure, it's another half-mile, but there are plenty of places on the way to stop for a drink. 
Should you wish to continue up the trail to the terminus at Parkside Place near North Wales, it's 6 more miles, past the BoRit Superfund site (don't stick a shovel in the ground and you'll be fine, and that's all I'm going to say about that), traversing Whitpain, both Gwynedds, a golf course and more. That's still about 4 miles short of the ultimate source of the Wissahickon, behind the Montgomery Mall. Which you can get to on the 94 bus! 
Two counties, a trail system and one long creek: It's Weavers Way's neighborhood now.
www.wvwa.org/greenribbontrail/
www.montcopa.org/924/Wissahickon-Trail
www.fow.org/visit-the-park/