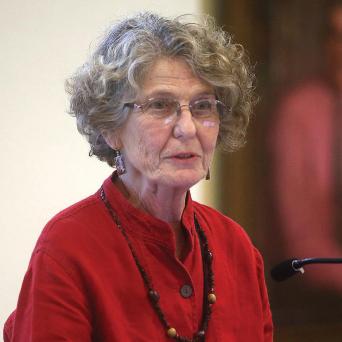 Raisa Williams, a founding member of Weavers Way's farms, died in July at age 69. Raisa's son, Miguel, said she was involved with many Co-op committees and projects, but by far the nearest to her heart was the Farm Committee.
A social worker and former dean of freshmen at Haverford College, Raisa came to the United States in 1962 as a teenager in the anti-Castro "Pedro Pan" airlift of Cuban children. 
Miguel said his mother "saw the opportunity to learn to grow things and understand nature as one not to be missed for anybody who was interested, but particularly for public-school kids who might not be exposed to it in any other way.
"She even kept many of the original seedlings for the Mort Brooks farm in our kitchen until they were big enough to replant in the new beds at Awbury. She made some great friends through Weavers Way and the farm committee, including Norma Brooks, with whom she started the original farm at Awbury Arboretum. 
"We spent years marveling at public school/working farm relationship at W.B. Saul, and I know my mom was very proud of being able to ultimately make the connection between such a unique agricultural and educational partnership and her beloved Weavers Way. 
"She continued working on scheduling and committee tasks until less than a month before her death. My dad now spends time painting at the farm, and there aren't many places that evoke her spirit quite like the fields at Henry Got Crops."