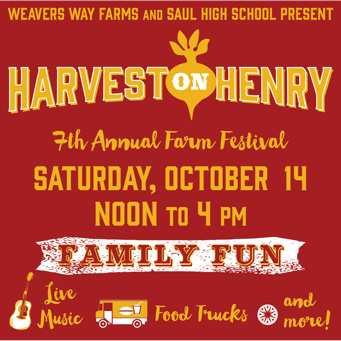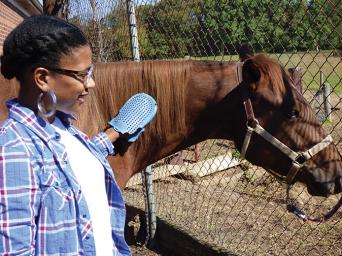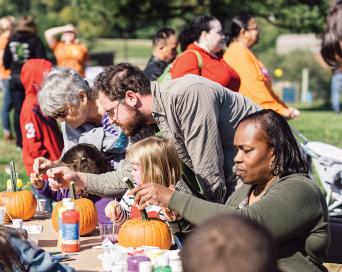 Weavers Way's farms are about good food and bringing people together, and what better way to celebrate the season than bringing people together with good food and fun festivities?
Harvest on Henry is our annual farm festival and fundraiser. Students from Saul High School, where our Henry Got Crops Farm is located, keep everything running smoothly, from pumpkin golf to the petting zoo to selling the pies. Here are just some of the fun experiences you can sample:
 Get lunch from one of the food trucks before lining up for face-painting or a veggie tattoo! 
 Relax on a hay bale in the shade of the cherry tree and tap your toes while local musicians fill the field with melodies. 
 Watch local artisans spin wool and weave and then take a turn pressing apples for cider.
 Learn more about the organizations that make this farm possible when you stop by the Food Moxie and Saul Alumni tables.
 Be sure to bring a bag to carry local apples and apple cider home, but don't wait to eat the cider doughnuts — they taste best when eaten outdoors with friends at the farm. 
 And a visit to Saul would never be complete without visiting the farm animals that make this campus so unique. Maybe you'll even be able to see the cows on the famous hayride through the pasture and into the woods.
See you there!