by
Susan Ciccantelli, for the Shuttle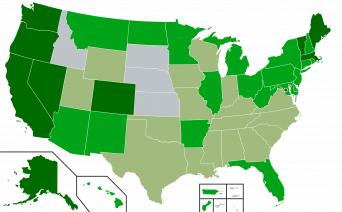 Resources & Sources
Medical marijuana in Pennsylvania:
www.pa.gov guides/pennsylvania-medical-marijuana-program
The Lambert Center:
Other reading:
 "The Leafly Guide to Cannabis: A handbook for the modern consumer," Hachette Book Group, 2017
 "Marijuana Goes Mainstream," Centennial Media, 2018
Though many gardeners might disagree, a weed is "just a plant whose virtue has not yet been discovered" (Ralph Waldo Emerson). The weed making the news these days is marijuana, as in medical cannabis. Now legal for restricted medical use in more than half the states, and legal for recreational use in eight states, marijuana is going corporate, with online suppliers around the world and an investor community that is, according to Forbes, closing in on $35 billion. 
Philadelphia recently became home to the nation's only comprehensive academic research center focused on the therapeutic possibilities of this weed — and that's no small feat, since the federal scrutiny of this research is a considerable burden for any research institution. The Lambert Center for the Study of Medicinal Cannabis and Hemp, which is housed within Thomas Jefferson University, is funded entirely by philanthropy, with researchers located across the United States and around the world in places such as Spain, Israel and Canada. Its mission, according to Center director Dr. Charles Pollack, is to "improve the patient experience by informing the science that validates the altering of the course of disease in a positive manner." This entails everything from pain relief to amelioration of other diverse symptoms. 
The most cutting-edge research in this very complex space is being done in Israel and Canada, but the Lambert Center is also doing research locally and is very engaged in offering continuing education to healthcare providers. It also has plans for educational programs about medicinal cannabis designed just for consumers, which it hopes to offer free of charge. 
Very little has been scientifically proven so far about the therapeutic effects of medical cannabis.The cannabis plant has been around since 7,000 B.C. or so, and it is the source of more than 140 different biologically active compounds. Of these compounds (referred to as cannabinoids), two get most of the attention: the anti-inflammatory cannabidiol (CBD) and the psychoactive tetrahydrocannabinol (THC, which is responsible for the "high" associated with recreational marijuana). But researchers around the world working in both academic and commercial labs are finding some amazing things about the subtle interactions and complex combinations of these and other cannabinoids.
Meanwhile, soon there will be not just one, but two medical cannabis dispensaries in the Philadelphia area, in Fishtown and Elkins Park. Both will go by the name Restore Integrative Wellness Center. They are among eight approved by the PA Dept. of Health Advisory Board, with applications continuing to be processed. (Under the state's Medical Marijuana Act, which went into effect just over a year ago, the board can issue permits for up to 50 dispensaries, which can each have three locations.) Visit www.restoreiwc.com for the current status. 
Consistent with Pennsylvania law (and not the case in most states), these dispensaries will be staffed by trained clinicians — pharmacists, nurse practitioners, physician's assistants and even physicians — who will advise patients on what types of cannabis might be helpful for their symptoms. Both dispensaries will also have wellness facilities staffed with fitness and bodywork professionals in multiple modalities, including acupuncture and physical therapy.
To be able to make a medical marijuana purchase, dispensary clients must have one of 17 conditions, from amyotrophic lateral sclerosis to sickle cell anemia, listed by Pennsylvania as qualifying for medical cannabis. They must apply for and receive a PA Medical Marijuana Program Card and choose and make an appointment with a certified Pennsylvania physician who will verify their condition and their suitability for a trial of medical marijuana.
Many products that will be dispensed in Pennsylvania have more CBD than THC. CBD is thought to relieve a wide assortment of symptoms, including inflammation, anxiety, pain and insomnia. In the pain category, some of the most dramatic results have been achieved in those suffering from Crohn's disease and multiple sclerosis, whereas pain that results from neuropathy, including that caused by spine injuries or surgical trauma, usually requires some THC to afford relief. 
Susan Ciccantelli is a Weavers Way Working Member.