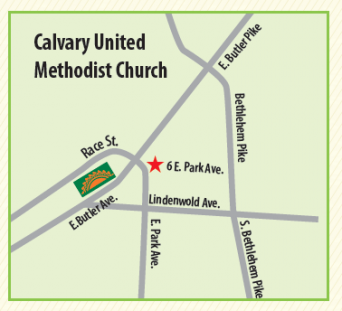 Weavers Way Environment Committee is excited to announce that our June meeting, scheduled for Wednesday, June 13, 7 p.m. —and every third meeting thereafter ­— will be held in Ambler!
Thanks to the pastor of Calvary United Methodist Church, Catherine L. Bowers, for providing us with this regular meeting space. The church is at 6 E. Park Ave., between Lindenwold and E. Butler avenues. The entrance is from the church parking lot. Parking is limited to 20 cars; if the lot is full, there's also plenty of street parking, and Weavers Way Ambler is just around the corner.
Along with those who already serve on Weavers Way Environment Committee, we wish to welcome new Co-op members from Ambler, so if you're interested in joining, we hope to see you there! 
Questions? Contact Denny Whalen: dennywhalen@yahoo.com.
— Marsha Low