by
Jeannine Kienzle, Weavers Way Purchasing Assistant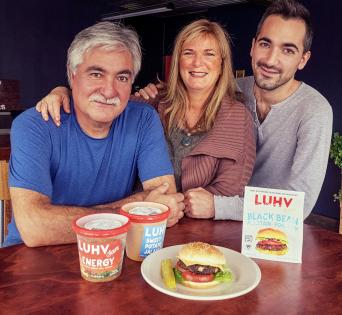 With so many vegan and veggie burgers on the market attempting to replicate a traditional beef patty that is meaty in texture and even "bleeds" red, it is refreshing to discover LUHV Food's black-bean burger. It not only tastes delicious and doesn't fall apart in a crumbly mess, but stands on its own as not-beef. (As Craig LaBan says, "If you are craving a plant-based patty that actually tastes good, the LUHV burger achieves that goal admirably.") 
LUHV Food, family owned and operated, is a true example of the American dream. Silvia and Daniel Lucci are Argentinian immigrants who have been in the restaurant business for more than 20 years in the Philadelphia suburbs. They discovered veganism when Silvia fell ill several years ago after experiencing a mild stroke. Daniel researched healing foods to aid in Silvia's recovery and was persuaded about the health benefits of veganism. 
"It was a challenge for Daniel to come up with flavorful vegan options, but he just thinks of something in his head and it translates into a delicious meal," Silvia said. That's how the sweet-and-spicy black bean, plantain and poblano LUHV burger was born. 
The company — Silvia and Daniel are co-owners, Daniel is the chef —makes them at their plant in Hatboro and sells them, three to a freezer pack, at grocery stores from Connecticut to Virginia. A garbanzo bean burger with a slight chipotle kick will be available in stores soon. 
Chef Daniel and wife Silvia also operate the 40-seat Café con Leche in Newtown, which they opened in 1997. Daniel introduced the nutritious Energy Soup and black bean burger at Café con Leche and customers ate it up, always requesting what Silvia was eating. The response was incredible and people started buying the burger patties to take home. Both Daniel and Silvia became vegans during this time period and their oldest son, Facundo, followed suit. 
Facundo's entrepreneurial spirit kicked in when he saw how popular the black bean burgers became. He encouraged his parents to package the burger and sell it to local food markets — even taking the bold step of coming back home from New York City to help with the family business. Facundo designed the packaging, created a website, applied for trademarks, and took over the business end of launching the product. The family opened their factory in Hatboro in 2015, and a vegan storefront bistro there a year later. LUHV Food sources all compostable packaging and even used reusable and recycled pallets to build the furniture and counter fixtures in their bistro.
Most recently, LUHV Food was offered a permanent space at the Reading Terminal Market, the first vegan establishment to have a permanent place at the Market. Facundo manages the location, which sells their burgers, soups, mock tuna salad and other vegan items. 
Silvia's goal is for veganism to go mainstream. "I believe that veganism is an act of giving and spreading awareness." Her hope is to open more LUHV Food bistros in the Philly suburbs, especially where vegan food might not be accessible. Silvia says the Hatboro community has embraced them and has been very supportive of their establishment. 
LUHV Food Energy Soups and Black Bean Burgers can be found at all three Weavers Way Co-op locations. Be sure to check out LUHV Food's demo station at Vegan Fest on Saturday, June 23, at Weavers Way Ambler.