by
Liz Traison Witkin, Weavers Way Neighborhood Nutrition Team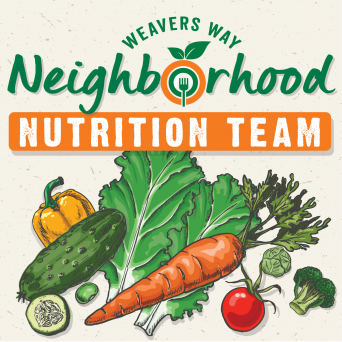 WORKSHOP
Eating with the Seasons
Friday, June 8, Noon-1:30 p.m.
Weavers Way Ambler
Seasonal changes are the perfect time for renewal and rejuvenation. Even gentle shifts in your diet can stimulate your mind and body. Join Neighborhood Nutrition Team member and Registered Dietitian Liz Traison Witkin to talk about what's in season in June, and how we can adapt our diets with the the change in season. Tastings and recipes included! FREE. To RSVP, visit www.weaversway.coop/eating-seasons.

RECIPE 
Seasonal Spring / Early Summer
Veggie Salad
3 Persian cucumbers, thinly sliced
2 chioggia beets (or 1 purple and 1 golden beet)
5 radishes, very thinly sliced
4 scallions, thinly sliced
3 cups snap peas, cut in half
Sesame, black sesame, hemp seeds (optional)
Chop veggies as directed. Sprinkle with seeds if you choose. Put in a bowl and enjoy outside on a cool, summery evening. 
It wasn't too long ago that "eating seasonally" was simply eating. Asparagus poked its pointy heads from the ground in spring, we waited patiently for peaches to ripen to that delicious, juicy, dribble-down-to-your-elbow moment of summer, and crisp apples meant crisp fall air was on its way. Winter was a little bit harder, with canned or fermented produce from earlier months providing nourishment, but also a reminder of those tasty summer morsels during the cold winter months.
Today, our world is quite different. We see strawberries year round. It might not even occur to many people that potatoes have a growing season too. And while convenience is good too, there are a few really good reasons to stick to the seasons:
Seasonal eating is cheaper. When produce is being grown in the season that it's best equipped to, it grows bigger and better. This means there is a greater supply, so it costs less for farmers and distribution companies. Eating with the seasons tends to increase support to local farmers as well. Farmers markets and community supported agriculture (CSA) programs are great way to eat seasonally and support the local economy.
Seasonal eating is healthier. Seasonal foods are picked at their peak, which means they have maximum nutrient potential. Not only are fruits and vegetables more flavorful, they have higher vitamin and mineral contents as well. People who eat seasonally also tend to consume a greater variety of fruits and vegetables, a key component to maintaining a healthy diet. 
Seasonal eating is environmentally friendly. A lot of infrastructure is needed to get foods grown half a world away to a grocery store near you. Eating in seasons cuts down on shipping, storage and refrigeration costs, and, increasingly, it means less irradiation and pesticide use. 
If you need berries in the dead of January or brussels sprouts in August (as we all do sometimes!), frozen foods are a cheaper and healthier way to go. 
As summer makes its way to us, with all the juicy moments it holds, why not find at least one new way to eat seasonally this summer?
Liz Traison Witkin is a registered-dietitian student at LaSalle University and also working on her masters in human nutrition.