by
Lauren Todd, Weavers Way Farm Market Manager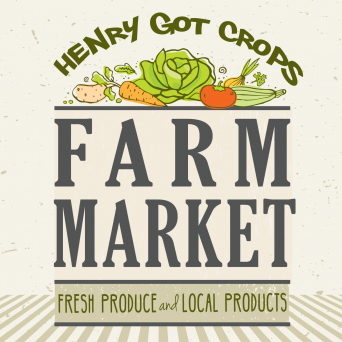 FRESH PRODUCE & LOCAL PRODUCTS
7095 Henry Ave.
at the farm across from
Saul High School in Roxborough
HOURS
Tuesdays & Fridays
Noon-7 p.m.
MAY-NOVEMBER
EBT, FMNP, and —
*NEW* — Philly Food Bucks accepted.
Have you visited the co-op's fourth retail location yet? 
The Farm Team warmly invites you to visit the Weavers Way Farm Market at Henry Got Crops, 7095 Henry Ave, opposite Saul High School in Roxborough. We're open noon to 7 p.m. Tuesdays and Fridays through November.
The Farm Market showcases the vegetables, flowers, and fruit grown at both of the Co-op's urban farms: Henry Got Crops Farm at Saul, and Mort Brooks Memorial Farm at Awbury Arboretum in Germantown. But over the last few years, the Farm Market has grown from a roadside stand to what is best described now as a mini, seasonal Weavers Way store! In addition to a full array of chemical-free homegrown produce, here you'll find some of your hyper-local Co-op favorites, including Philly Bread's Philly Muffins, Instar Apiaries raw honey, Wholesome Dairy raw milk and yogurt, Talluto's frozen pasta, Stryker Farm heritage-breed pork and grass-fed beef products, Wissahickon Pottery functional earthenware, Piperwai natural deodorant and Food & Ferments sauerkraut and Fireside Tonic. 
When temperatures soar, come chill at our shaded picnic tables with a bottle of Baba's kombucha, a perfectly ripe peach from Beechwood Orchards, a freshly baked pastry from High Point Café, or an ice cream sandwich from Zsa's. I assure you that we're the coolest spot this side of the Wissahickon. 
Co-op member discounts, including Senior Tuesday and Food For All, apply at the Farm Market and you can pay using cash, EasyPay and credit, debit, and EBT cards. We accept Farmer's Market Nutrition Vouchers, and this year we are also an approved site for distributing and redeeming Philly Food Bucks. We are proud to provide our community with seasonal, nutritious, and farm-fresh food.
To prepare for what we expect will be a busy 2018 season, we've welcomed two new market assistants. Chestnut Hill shoppers may recognize a familiar face when greeted by Marlise Frame, who also works in the Produce Department there. Marlise has previous experience on farms in Oregon and Iceland and has been with the Co-op for a year. Our other new market assistant is Shayona Tyler, a rising junior at Saul High School. You'd never guess this is Shayona's first job – she just started with us and is already a pro on the register! 
I'm thrilled about our new faces and new local products at the market; allow me to introduce you to a few of my personal favorites:
Keepwell Vinegar: This company was started by two former pastry chefs, Isaiah Billington and Sarah Conezio, who wanted to fill a need for reasonably priced, high-quality vinegars not reserved for specialty kitchens or markets. At their production facility in York County, raw ingredients such as maple, sorghum, honey, fruit, grain — sourced from nearby farms like Co-op favorite Three Springs – are fermented in small batches. Try a splash of ramp or ginger vinegar in a homemade marinade or salad dressing for zip and depth of flavor.
Christina Maser: If you shop the Co-op, you may already be familiar with Christina Maser's scented soy candles, but this woman-owned company also offers an extensive line of pantry products. In addition to candles and bath salts, we stock her dry soup mixes, fruity vinaigrettes and herby fruit jams and preserves. Based in Lancaster County, the company sources sustainably grown seasonal ingredients from local farms they know and trust. Another reason to love this company is that most of their containers can be reused. 
Goshenhoppen Run: If "hot" is one of your favorite ingredients, make room for Goshenhoppen Run's sauces in your cupboard. Cheyne Geverd and Fiona Palumbo are "seed to sauce" makers dedicated to striking the perfect balance between flavor and heat in their bottles of Smokehaus Garlic and Haunted Harvest hot sauces. Ingredients are grown on 35 acres near Perkiomenville, Montgomery County. The farm's non-GMO hot pepper mashes are fermented and aged for a minimum of six months before being cooked and bottled. The farmers, self-proclaimed "chili heads," are fellow members of the Pennsylvania Association for Sustainable Agriculture and are committed to using regenerative practices that maintain soil health for future generations of local growers. 
Many more amazing local goods await you at the market so we hope to see you soon! Be sure to follow Weavers Way on Facebook and Instagram so you can see what's new each day — our market offerings change with the seasons.