by
Betsy Teutsch, for the Shuttle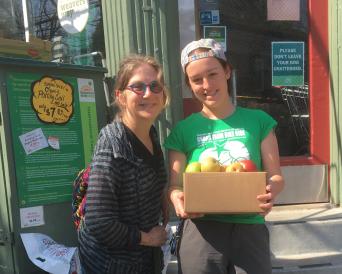 When I first encountered my future mother-in-law's thriftiness 45 years ago, I was amazed. Reusing tea bags? Darning socks? In time, I came to understand these habits were born of having been reared in Depression-era Germany and coming to the United States as a refugee. Her job was to stretch every penny, and she really did.
Twenty years later, I realized I'd turned into my mother-in-law. She amassed drawers full of odds and ends someone might need sometime; we collected scads of waste to be taken to the suburbs for recycling, before curbside recycling came to Philadelphia. For me it wasn't about pennies, but "reducing, reusing and recycling" to save Planet Earth.
Now our world is awash in plastic waste, glutted with cheap clothing and facing a climate crisis. New methods to enable sharing and strategies for reducing consumption are abundant, too, making it a little easier to shrink our oversized carbon footprints.
New to Instagram, I was intrigued by Mariah Butler's postings celebrating #ZeroWaste. Mariah, a dear friend of my daughter Nomi, is a Food Moxie farmer/educator. I invited Mariah to share her perspective, comparing and contrasting our approaches. 
While I was influenced by "The Tightwad Gazette" and Annie Leonard's video, "The Story of Stuff," Mariah's entry point was journalist Michael Pollan skewering the agricultural/food processing/chemical-industry complex, followed by a deep dive into reading about food systems and waste. 
My habits are both practical and spiritual. Mariah and other ZeroWasters embrace a more radical rejection of consumerism: seeking to meet one's needs with a minimum of interaction with destructive materialism. And yes, there are hashtags: #zerowaste, #zerowastelifestyle, #LowWasteLifestyle. Paradoxically, there are people making livings writing books on this, with a flourishing online community featuring apps, bloggers, videos and Instagrammers.
Mariah and her love, Tom, whom she met in Nepal, are a graduate student and an employee of a nonprofit, so living simply suits them financially. But the process of creating their sustainable lifestyle is a statement as well as fun—it's a challenge and a hobby. Tom loves furnishing their home from West Philly porch sales. They garden, of course. They buy clothes from thrift shops. Mariah's Diva Cup is past its recommended lifespan, but why should she replace something that works fine? As you may have gathered, it's not easy to sell Tom and Mariah new stuff.
You won't find much garbage or recycling at their home, because they purchase most everything in bulk at Weavers Way or Mariposa Food Co-op. I reuse bread bags for compost and take it to a neighbor's chicken coop. Mariah bakes her own sourdough bread each weekend and uses waste that some people would compost to make new foods like vinegar and stock. 
Occasionally I fret about appearing cheap or weird — the lady who uses terrycloth rags instead of paper towels and gives you napkins from Subway. For Mariah and other #zerowasters, there is no #frugal-shame. Bravo for that!
Betsy Teutsch, a Weavers Way Working Member, is completing her new book, "100 Under $100: Tools for Reducing Postharvest Losses."