by
Karen Plourde, Weavers Way Communications Staff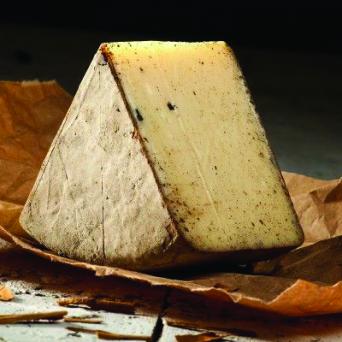 The Daily Deli
Perlagrigia and Fran de Maquis: Two young herbed cheeses for spreadable summer adventures.
Bowing to the tastes of summer, la cassa del formaggio in Chestnut Hill has added more mild, spreadable cheeses. Perlagrigia sotto cenere ($19.15/lb.), a semisoft pasteurized cow's milk entry produced near Venice, contains black truffles. The wheel is next blanketed with a layer of dried cloves, cinnamon, nutmeg, coriander and licorice to keep the interior from drying out. It's recommended as an antipasto accompaniment.
Also from the herbed side of town is Fran de Maquis, from Couet Farm in Dudley, MA ($13.69 ea.). It too is made of cow's milk and pasteurized, and is coated in rosemary, fennel seeds, juniper berries and savory. The boldness of the herbs give it heft, so in addition to baguettes and crackers, it would go well with cucumber or tomato slices. You may also want to dot it on grilled steak for extra bam!
Going On in Grocery
Greyston Bakery treats taste great while doing good. And Origin Almond shakes are cold-pressed and local.
The brownies and blondies from Greyston Bakery of Yonkers, NY, now available in Ambler ($1.95 each), take packaged bakery items to the next level. Yes, they're moist and chewy, with no artificial ingredients. But the company has also committed itself to Open Hiring — giving jobs to people regardless of education, work history or other barriers such as incarceration or homelessness. They also offer workforce development and housing services to their employees and the community. And they've created a Center for Open Hiring to educate other businesses about the practice. (Read more at greyston.org/the-center-for-open-hiring.) The four varieties (including one vegan) are located on the Sweet Treats display by the Membership Desk, and in the refrigerated case near the checkouts.
New in Chestnut Hill's beverage case are Origin Almond shakes of Laurel Springs, NJ. In addition to infused almonds, the all-vegan flavors include superfoods like turmeric, ginger and matcha and moringa leaf, and no added sugar.
Bulk & Beyond
Sun & Earth bulk expands in Mt. Airy. And more new nuts to spice up summer.
King of Prussia's Sun & Earth bulk laundry detergent has long been a staple in Mt. Airy. Now their dish detergent and all-purpose cleaner are getting a retry on Carpenter Lane. Both are $1.99 a pound, and contain no petroleum-based solvents, dyes, perfumes, brighteners or preservatives. All three are also stocked in Ambler, along with floor cleaner and hand soap.
Every month seems to usher in a new type of seasoned nut around here. Mt. Airy recently introduced GrandyOats nori sesame cashews ($17.85/lb). Ambler, meanwhile, brought in Grandy's garlic and herb cashews ($17.79/lb.) and Wricley salted pecans ($13.29/lb.) They're great in salads or as a pasta protein alternative. And they'd pair well with your favorite IPA.